Autodeskers from Barcelona to Boston, Singapore to San Francisco, streamed into a virtual fair to connect with colleagues around the globe. Others listened in on personal stories of overcoming adversity and finding purpose. And tips were shared on how to achieve the impossible by following five simple steps. These are just a few of the scenes from Autodesk's first ERG Week, a series of global events designed to celebrate and elevate our Employee Resource Groups.  
To bring the programming to life in a virtual world, each of our seven ERGs brought in dynamic voices, some from within the company, as well outside experts to expand our thinking. The Autodesk Black Network, Autodesk Women's Network, and Autodesk Pride Network joined forces to bring us a fireside chat with Janet Mock, a writer, director, and executive producer for the FX series "Pose." Mock talked about her journey as a trans woman, the power and challenges of embodying multiple identities, and the impact of representation and belonging. 
Autodesk's Young Professionals Network sponsored Ben Nemtin, co-founder of The Buried Life movement. Nemtin shared a message of "radical possibility," giving our employees both inspiration to set impossible goals and practical tools to achieve them.
Every ERG had a moment to shine. To round out the week, the Autodesk Veterans Network also hosted a conversation with Autodesk executives who actively support and advocate for our groups.  
Elevating diverse voices is central to Autodesk's culture 
Our ERGs help drive this change by representing and celebrating both visible and invisible dimensions of diversity while forging connection among their own members and with other ERGs. We think of our ERGs as a whole community, not individual organizations operating in silos, and everyone is welcome to join. 
Head to AfroTech to hear from ABN Member RaShonda King about her experiences in an ERG
We believe one of the greatest benefits of participation in our Employee Resource Groups is the pipeline into leadership at Autodesk. Through opportunities to lead stretch projects, participate in training and development opportunities, and work closely with Executive Sponsors in executive leadership, we believe our ERG leaders are positioned to grow and develop their careers at the company.
In fact, we've seen ERG participation help foster leadership skills in people like Mario Espindola, who's an Autodesk talent acquisition leader, as well as chair of the Autodesk Latinx Network (ALN). Since Mario started leading ALN in July of 2020, he's already made his mark. Last September, ALN helped Autodesk celebrate Latinx Heritage Month, and for ERG Week, the group sponsored a Belonging in Tech forum to feature stories from Hispanic and Latinx Autodeskers from around the globe. 
"Participation in an ERG isn't considered just a side project," said Espindola. "We truly believe it's core to making a positive contribution to Autodesk's culture and the business." 
ERG's also help advocate for important policy changes at the company. On an ongoing basis, our ERG's offer support and a place to talk, listen, and learn through moments of joy and tragedy. The cumulative effect of these events makes one thing clear: When our ERGs come together, they have a profound effect on our culture and people. 
Ongoing ERG programming  
This work isn't isolated to a single week and in 2020 alone we held more than 25 ERG-sponsored events. Over the years, we've held summits to bring people together for networking and connection, we show up in force to march for Pride, we create meaningful programming for cultural events like Black History Month, where we welcomed our Board Member Dr. Ayanna Howard to talk about the future of Artificial Intelligence, and for Asian Pacific American Heritage Month, the Autodesk Asian Network is celebrating with programming featuring inspiring Asian leaders.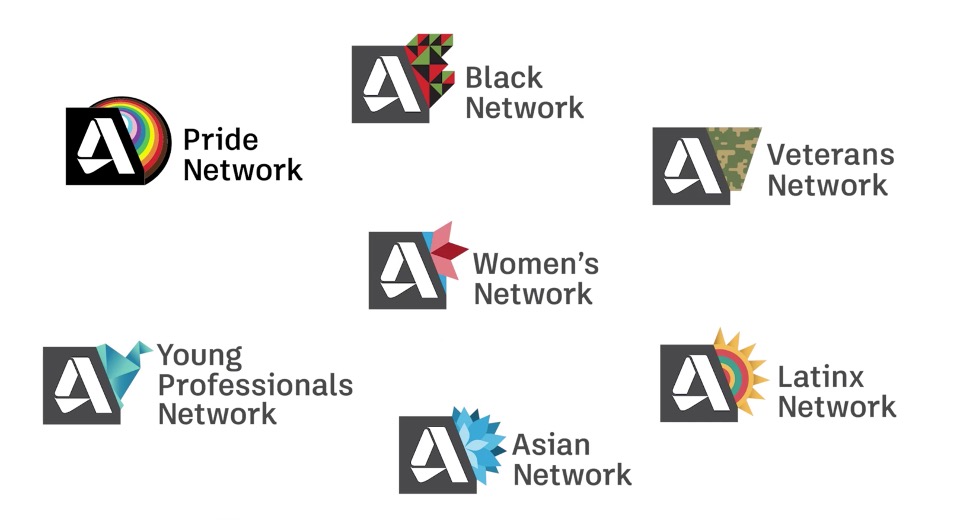 ERG Week is part of a larger journey, one in which each group is growing its membership, influence, and impact on our business. At Autodesk, we are fortunate to be part of a global company that works in almost 40 countries and speaks dozens of languages. Embracing what makes us different, as well as what unites us, helps create a culture of belonging that allows us to do our best work and thrive.  
To learn more about our ERGs and our commitment to diversity and belonging, visit us here.