Over the past two decades, BIM has gone from a nascent idea to an industry-defining method and technology. We always seemed to be at the "tipping point" with BIM adoption—but that's completely changed now. We definitively know BIM is the industry standard. It's transforming AEC into a data-driven industry.
Accelerating Digital Transformation Through BIM SmartMarket Report—a new global study by Dodge Data & Analytics conducted in partnership with Autodesk—provides a thorough overview of how architects, engineers, and contractors are deploying BIM and leveraging data.
Read the report findings here.
According to the report, 60% of architects and 51% of MEP and structural engineers currently use BIM on at least 50% of projects. That number is forecasted to skyrocket to 89% and 80% respectively within the next 2-3 years.
The biggest, recent mover to BIM is civil engineering. About 70% of engineers have adopted BIM since 2016. This particularly significant jump by civil engineers in the most recent period reflects the rapidly growing use of BIM for infrastructure work.
High-intensity BIM for the win
There's one core reason why there is a surge of BIM adoption. Firms are increasingly realizing that a digital transformation yields major business benefits, like improved client satisfaction and design quality; risk reduction; reduced errors and rework; and meaningful sustainability and operational efficiency benefits.
But it's more than just adoption. The more you use BIM, the more you reap. The study found a company's BIM intensity (i.e., the percentage of their projects where they use BIM) correlates directly to the progress of their digital transformation and the degree to which they report enjoying benefits from BIM investment and ROI.
The study also suggests that BIM is a critical part of the digital transformation journey. Nearly half (47%) of high-intensity BIM users are approaching the goal of digital transformation, compared with just 26% of BIM users generally.
Popularity of common data environments
One of the most-cited benefits of BIM is the collaboration opportunities through a common data environment (CDE) and taking advantage of the cloud. According to the report, a large majority of BIM users use a CDE to exchange data with their project teams. And contractors are reporting the greatest value from its use. The results are telling:
More BIM, less risk
Mitigating risk is always a top priority across design and construction teams. According to the study, more than three-quarters of designers report a medium-very high degree of benefits across six risk reduction benefits: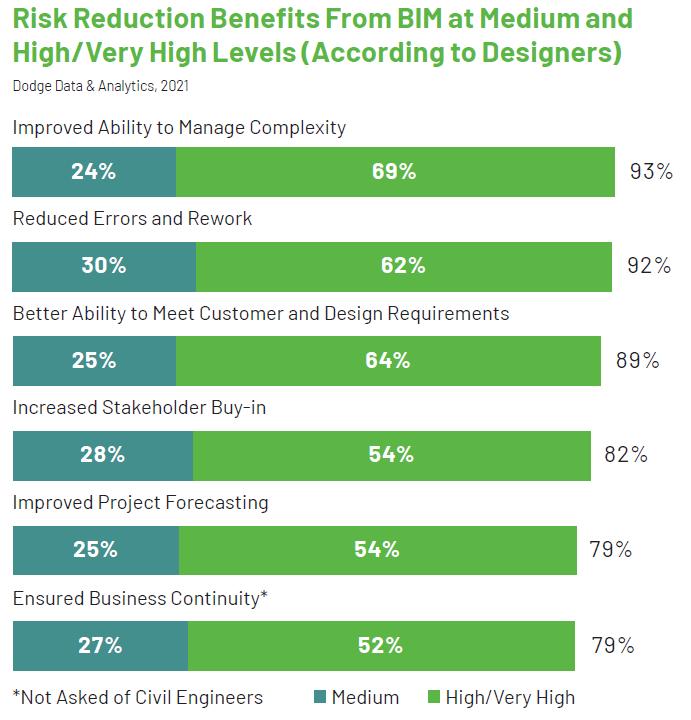 At the same time, BIM intensity correlates directly with achieving high/very high levels of risk reduction benefits for design firms.
"High BIM intensity has the biggest impact on improving the ability to manage complexity, reduce errors and rework, and improve the ability to meet customer and design requirements," Dodge Data & Analytics writes. "Even medium levels of BIM intensity correlate with experiencing increased stakeholder buy-in and ensured business continuity at a high/very high level."
What's next?
For me, this new data is exciting because we see how rapidly digital transformation is taking place now. BIM has always been about data. But seeing the true success and potential of BIM has been reliant on getting everyone on-board and using it daily. Now that's happening, from the architect, to the engineer, to the contractor.
As an industry, we can't stop now. We're at the beginning of a new era for BIM. In a special interview for the report, Phil Bernstein, associate dean and professor adjunct at Yale University, noted, "It's my hope that as the industry faces its next set of existential challenges—climate change, social inequity, labor shortages, broken supply chains—it will deploy tools like BIM, and eventually AI, in the service of optimizing the entire delivery process."
As the AEC industry continues to embrace BIM, even more avenues of digital transformation will open as we discover compelling solutions to solve the largest challenges we face.
I encourage you to check out the full report and see the data for yourself to learn more about how BIM is driving digital transformation.