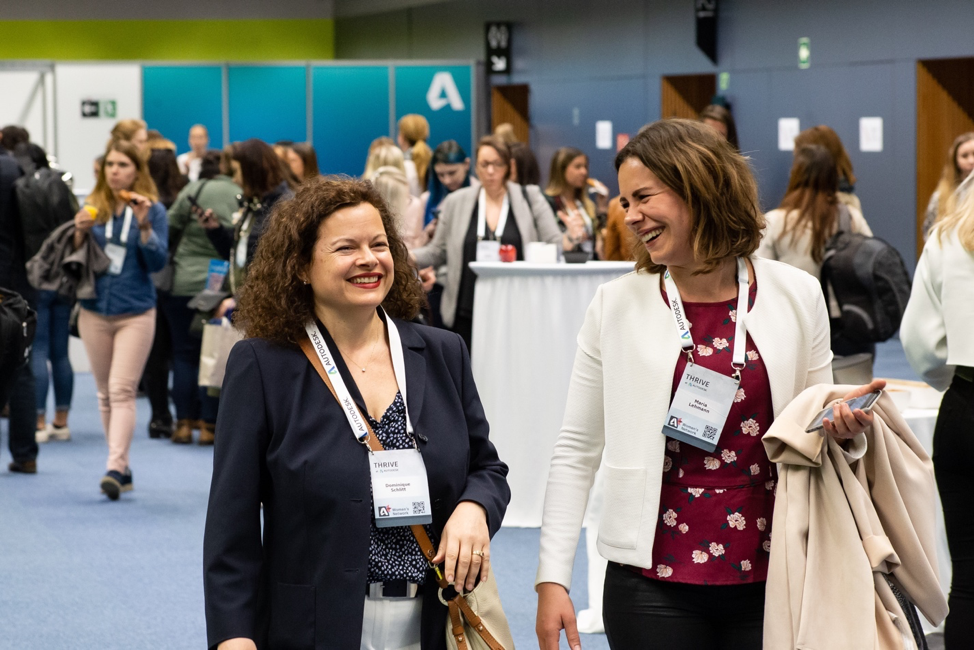 What if we gave women at work more of the training, community and support they needed to reach their full potential? What if we gave them a place to come together to learn and discuss their daily struggles, whether it's a challenging conversation with a manager or a navigating the next step of their career? These are the questions that led us to create Autodesk's first-ever Women's Summit, a 2-day event meant to celebrate and engage with women at Autodesk.
More than 300 female employees and channel partners from over 20 countries came together in Barcelona, Spain, to network and gain insights into successful career growth at Autodesk. Our Office of Global Diversity and Inclusion and the Autodesk Women's Network (AWN) sponsored this inaugural event with the goal of helping them strengthen their knowledge of Autodesk's business as well as form new and transformative connections through networking, setting themselves up for success in today's ever-changing workplace.
The Autodesk Women's Network is one of the largest employee resource groups (ERGs) at Autodesk today, totalling 800+ members and growing. Present in 45 offices across 27 countries, this group's mission is to empower women at all levels of Autodesk to develop and realize their full potential. The immersive two-day EMEA Women's Summit is the perfect example of AWN's commitment to personal and professional growth for women at Autodesk.
In Barcelona, Autodesk's Chief Human Resources Officer, Carmel Galvin, presented the audience with a thought-provoking look into the positive business impact of women in the workplace—like the fact that more women leaders are proven to make companies more profitable— and the common issues women can overcome, such as change resistance and the confidence gap. Using her own career path as an example, she demonstrated how combining the right mindset and behaviors can result in a successful, purpose-filled career.
Women weren't the only presenters at the event. Attendees got to hear from business leaders within Autodesk—both male and female— who shared advice from their own career successes. Derrek Cooper, a senior director of Autodesk's manufacturing product group, stressed the practice of not letting anyone, including yourself, limit your potential. "Take risks!" was the number one lesson from Kerry McIntosh, a chief of staff for the Autodesk Research team. Julie Sokley, a VP from the global sales org, explained the secret advantages of being a life-long learner, and Diana Colella, a VP of business strategy,  closed out the sessions by focusing on the importance of mentoring & networking.
After two days, participants left the summit armed with tools to take control and further their career at Autodesk and beyond. What were their takeaways? We asked and here's what we heard:
"Don´t limit yourself and look out of your own working area. Learn about other departments and opportunities in Autodesk. I left the event very inspired by hearing about the career paths of many successful women."
"Push your limits – be open minded, courageous – challenge yourself!"
"Be courageous and think outside of the box. Take challenges and even if you fail ,at least there were lessons learned. Everything we do in our career builds up to our future career."
"Have the occasion to openly talk about our careers, concerns and engage in dialogue that we may not have taken the time to have. It also opened-up an opportunity to share with my manager about the summit and how I view my current position."
"Our potential is high – be brave and be ready for change!"
"The power to succeed is within all of us. We must not be afraid to take a chance and pursue, without apology, that what drives us, fulfils us, and ignites us."
"The power you could feel with all women together! We are all owners of our own success!"
We're thrilled that employees found encouragement and motivation at this first women's summit, and we're hard at work planning more events that empower women and the role they play in Autodesk's success.