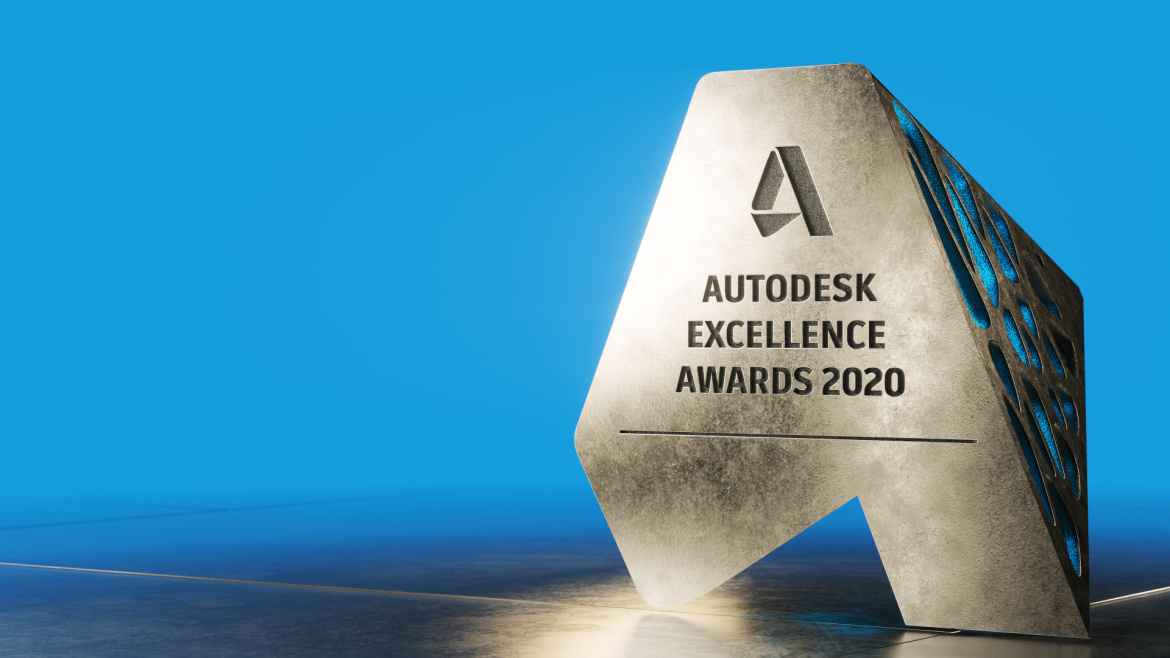 Recently at Autodesk University, we announced the winners of the 2020 Autodesk Excellence Awards for Product Design & Manufacturing. These inspiring companies were recognized for pushing the boundaries of change and transforming design and manufacturing processes in a positive way. Read how these pioneers are tapping into the power of new technology to drive innovation.
INNOVATOR OF THE YEAR
Hyundai Motor Group New Horizons Studio, Mountain View, CA
Hyundai Motor Group's New Horizons Studio makes tracks with novel walking car concept
A few years ago, Hyundai Motor Group asked, "What if cars could walk?" That bold question has now been answered with the development of an entirely new vehicle idea.
Hyundai's newly formed New Horizons Studio is pushing the boundaries of innovation with Elevate – the first "ultimate mobility vehicle."  Elevate can transform into a four-legged walking machine, allowing it to go even beyond the limitations of off-road vehicles.
No other vehicle in the world can move into reptilian or mammalian mode and still hold up to drive like a normal car. So, the unique concept of Elevate required a new approach to its design. The team applied Autodesk generative design technology to create lightweight legs, strong enough to handle the torque of the electric motors.
The need for rapid, resilient transportation for disaster assistance is what led Hyundai to develop Elevate, but the concept goes well-beyond emergency situations. Elevate is able to take people where no car has gone before, and the possibilities are limitless.
INDUSTRY DISRUPTOR
Briggs Automotive Company, Speke, Liverpool, UK
Creating the Ultimate Supercar with BAC Mono
Briggs Automotive Company designs and builds the BAC Mono, a high-performance, street-legal race car that only weighs about 570 kilograms. The UK-based team is constantly looking for opportunities to save weight and optimize performance.
For the newest Mono, BAC used generative design technology in Fusion 360 to fabricate the car's wheels. Designers first specified the performance requirements, materials, and preferred fabrication methods. Working within those constraints, generative design technology presented numerous options to explore and consider.
The new wheel not only conforms to BAC's aesthetic and brand identity, but it's also 35% lighter than the previous version and can be manufactured traditionally on a 5-axis CNC mill.
By decreasing the weight of the wheel, BAC was able to shed 10.5 pounds off the overall weight of the car, making it faster and more fuel efficient.
ENGINEERING THE IMPOSSIBLE
Firefly Aerospace, Briggs, Texas
Building a 21st Century Aerospace Company
Most experts believe the private space industry won't support more than a handful of top players. Firefly Aerospace is on pace to become one of them.
Based outside of Austin, Texas, the team of more than 300, led by co-Founder & CEO Tom Markusic, is getting closer and closer to the first launch of Alpha, Firefly's small launch vehicle.
Building spacecraft is one of the most challenging mechanical projects an engineering team can possibly pursue, but that hasn't deterred Firefly. Its engine designs output 1 million horsepower—that's like 1,000 high-performance sports cars running at the same time. Attach those engines to lightweight, strong carbon fiber stages and Firefly can make a rocket in just nine days.
Using Autodesk Inventor makes it possible for Firefly's engineers to design at the breakneck pace they're setting right now, while using Vault streamlines team collaboration.
Meantime, the clock is ticking — as Alpha is set to blast off in late 2020.
INDUSTRY COLLABORATION
Reynaers Aluminium, Duffel, Belgium
Streamlining Building Product Design Through Digital Transformation
Reynaers Aluminium develops innovative and sustainable aluminum systems for windows, doors, curtain walls, and other products—both for fabricators to manufacture and for architects to specify in large construction projects. Headquartered in Duffel, Belgium, the company employs 2,300 people, serves customers in more than 70 countries, and has been growing steadily.
Because the Reynaers portfolio is so large and diverse, the company must maintain nearly 50,000 pages of documentation at all times—and this amount is growing. The documentation for every new product system comprises about 800 pages of information in order to properly cover the various configurations of the door or window. Keeping track of this ever-expanding portfolio of configurable products had become extremely challenging for the company.
Click here to learn more about these inspiring projects.
By integrating tools from Autodesk's Product Design & Manufacturing Collection with other enterprise business systems, Reynaers was able to create a central, unified source of information for development teams and customers. Reynaers' digital transformation is ongoing, but for now the company has streamlined its processes, automated select workflows, and minimized the risk of manual errors.
MAKING A BETTER WORLD
The Ventilator Project, Boston, MA
Volunteers from around the globe unite to help solve the COVID-19 ventilator shortage
The Ventilator Project was founded to provide a solution for the global ventilator shortage as a result of the COVID 19 crisis.
Since March of 2020, the non-profit organization has rapidly grown to more than 200 volunteers around the world, in all walks of life, who have stepped up to address this challenge.
Relying on donations raised through fundraising campaigns, the team is on a mission to build a rapid and scalable low-cost pandemic ventilator. Initial prototypes of "AIRA," as they've named the device, took just weeks to develop with feedback from doctors helping the team to rapidly iterate new and improved versions.
Working together on a tight schedule, remote volunteers around the globe turned to Autodesk Fusion 360 for design collaboration.
The Ventilator Project team is confident about AIRA's future and is now awaiting FDA authorization to begin production.