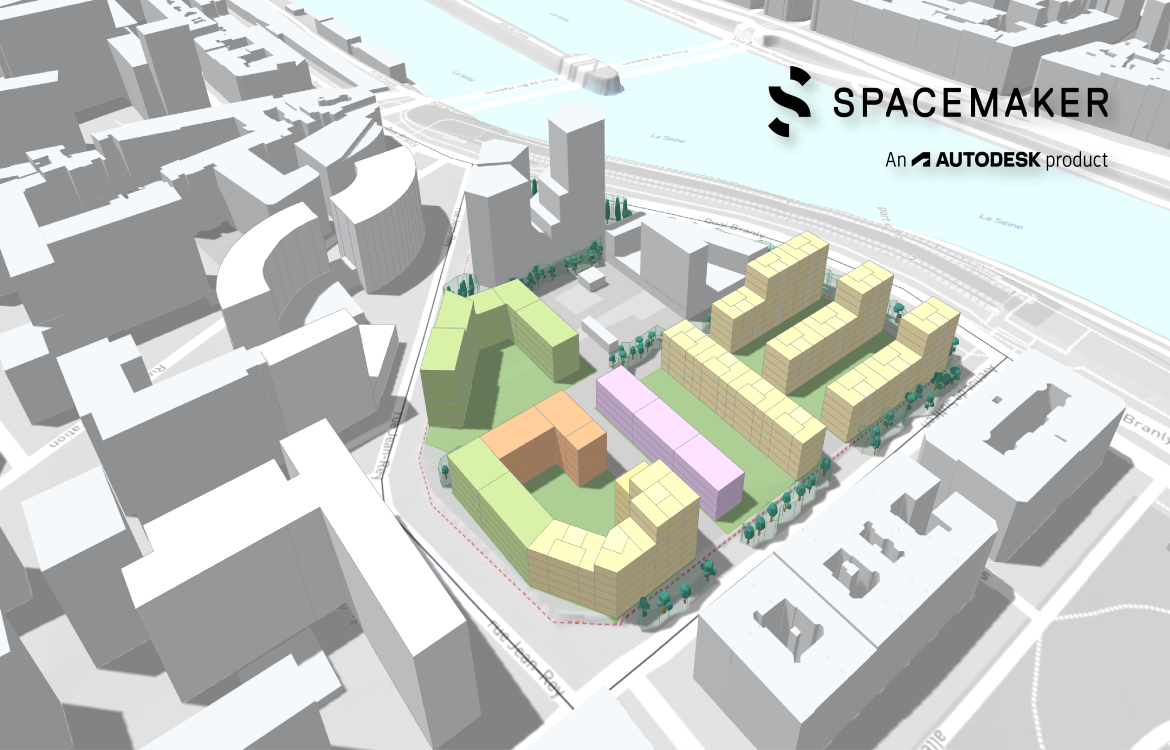 November 2021 marked the one-year anniversary of Autodesk's acquisition of Norway-based generative design company, Spacemaker. We saw great promise for Spacemaker's role in urban planning and design then and have even greater enthusiasm today for the future of Spacemaker and Autodesk together.
Spacemaker's AI software reinvented early-stage site planning and design for real estate developers and architects, supercharging teams' abilities to perform feasibility studies and optimize site plans. We see Spacemaker as a key part of our platform vision for the AEC industries, with its cloud-based workflows connecting every stage of the building lifecycle from planning to operations.
Spacemaker co-founder Carl Christensen leads Autodesk's Unified Design Group, driving our efforts to bring outcome-based design to the architecture, engineering, and construction (AEC) industries in a single platform. Carl and I recently sat down to reflect on the past year and where we're headed together. Here are some highlights from that conversation.
Learn how Spacemaker customers are improving communities.
Amy: It's an understatement to say it's been a big year for you and your team. You've delivered new features and become an essential voice in Autodesk's strategic vision. With all you have accomplished, can you share highlights of the past year?
Carl: This first year has really been about transitioning away from a standalone company to being a part of an impressive global company, while maintaining Spacemaker's nimble, creative, startup mentality. Autodesk encouraged us to maintain who we are—the character of our company and team, which we appreciated. But manifesting change as a standalone company was extremely hard. With Autodesk's credibility and relationships with customers, we've seen fantastic acceleration in how we drive change and rethink the way the industry works. I'm also proud of some key product advancements like microclimate analysis. The feedback we have received is encouraging. In fact, one of our valued Swedish architecture customers noted, "When we now start a new project, it feels like something is missing when we don't have Spacemaker."
It's not just those who live in the world's hottest urban areas who care about outdoor thermal comfort levels. Developers and architects involved in community and urban planning recognize they need more tools to design buildings and communities that are more comfortable to live in, more sustainable, and more resilient in the face of climate change.
Amy: Across our tools, we're partnering with customers to use data and insights to design and build more sustainably, including the places we work and play, and the communities in which we live. As an Autodesk company, Spacemaker continues to develop advanced tools and I'm excited to see how we can build in even more sustainability outcomes.
Carl: The common mission of Spacemaker and Autodesk—to solve some of the greatest challenges ahead of us all—is the glue that has made our relationship work. And sustainability has always been a key focus for both of us. On the horizon, we have PV (photovoltaic) analysis. The goal is to help architects gauge solar panel potential with much less effort. We're testing it with customers and will roll it out more broadly as soon as we're certain the results are viable—so far, the feedback from customers is positive and their guidance is helping to deliver a better tool.
Amy: Let's talk about something we know some of our customers are asking: how will Spacemaker integrate with Revit? Spacemaker serves a need in the earliest stages of planning and design. The choices architects make in this phase affect the entire project. And the further along you are in a project, the more expensive problems are to fix, if you can fix them at all. So, how do you see these tools working together?
Carl: Right now, architects use the IFC (Industry Foundation Classes) integration to get their work done, but we want to make this easier. We're working on a real-time, high-quality integration with Revit and other Autodesk products in the near term. As you know, Amy, the integration of Revit and Spacemaker is just a sliver of what we have planned for how these products work together.
Amy: Yeah, I'm excited about a future where we aren't talking about whether files end in RVT or IFC. We will not be talking about files at all, in fact. Autodesk's long-term vision is a single platform that harnesses data to serve all AEC stakeholders, no matter their specific role or discipline. We see the cloud and Spacemaker as important parts of this vision. It may fundamentally change data management and collaboration at every stage of the building lifecycle.
Carl: I want to take that thought a step further. This is about outcome-based design. To drive better outcomes, you must harness data as early in the building process as possible. Spacemaker is the starting point. Today, we are primarily serving urban planning, specifically providing vertical workflows for multi-family residential real estate. But we are building out services to support different verticals within the AEC because you cannot think about the built environment as just one plot of land, one building, one project. Apartments affect roads, which affect bridges, which affect other neighborhoods. Within different verticals and across all stakeholders—from architects and engineers to municipalities, builders, and owners—data will be connected in a single cloud environment. And when all that data is connected, we can connect people, processes, and insights in one platform.
Amy: This is how we reduce the industry's blank slate problem. Historically, every project started from scratch. The wheel must be reinvented over and over. But, by creating this data loop, we can enable the ultimate in outcome-based design—not just improving the design of a single building but improving how all buildings are built.
Carl: This has been an exciting first year, and our entire team at Spacemaker is eager to see the progress we make over our next year together.
Amy: We are excited too. We are thrilled to have you and the Spacemaker team on board with Autodesk and helping us to achieve our vision for the future of the built world.