We started the Autodesk Foundation in 2014 to support the design and creation of innovative solutions to the world's most pressing challenges, from accelerated population growth to increased carbon emissions, energy consumption, and rising inequality. Since inception, we've recognized the opportunity to bring a unique approach to philanthropy by providing risk-tolerant funding, technology, and talent to nonprofits and social enterprises to help them maximize and scale their impact.
Read on to learn more about the work of the Autodesk Foundation and our portfolio organizations.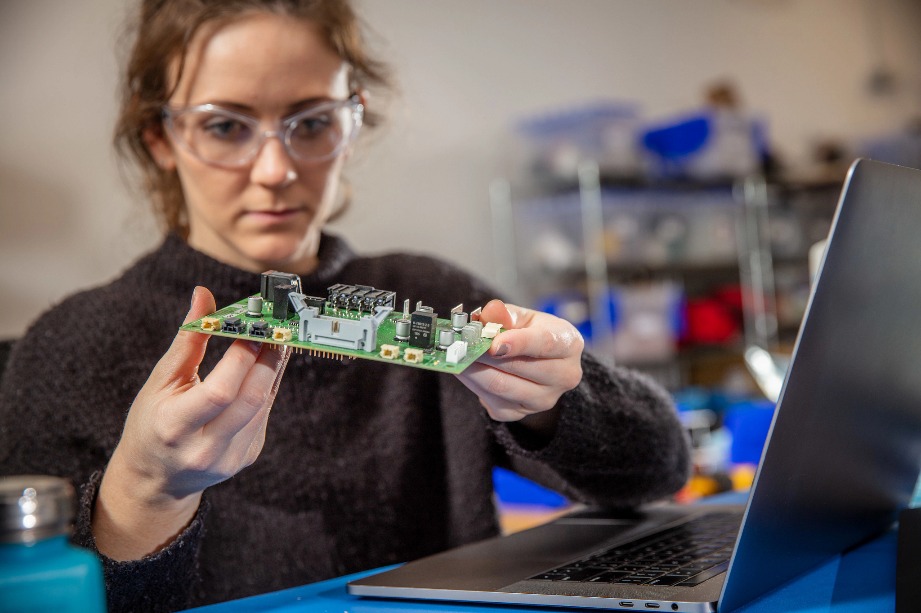 Who does the Autodesk Foundation support? How is it funded?
Every year, Autodesk contributes 1% of its operating margin to the Autodesk Foundation. In turn, the Foundation funds a portfolio of 30-50 impact-oriented organizations through grants and investments in three impact opportunity areas: Energy and materials, health and resilience, and work and prosperity. Investments are made in the industries Autodesk knows best, from architecture, engineering and construction to product design and manufacturing.
Since 2014, the Autodesk Foundation has facilitated over $37 million in grants and impact investments, over $160 million in Autodesk donated software solutions, and nearly 170,000 Autodesk employee volunteer hours. Collectively, it has reached more than 6,000 nonprofits and social enterprises.
Meet the portfolio organizations supported by the Autodesk Foundation that are championing technologies and solutions that reduce greenhouse gas emissions, promote resilience, and increase equality.
"I'm proud of the combined work that Autodesk employees together with the Autodesk Foundation have done in just six years to support inspiring solutions. We have reached more than 6,000 organizations to transform industries and make a more sustainable, resilient, and equitable world." – Lynelle Cameron, CEO Autodesk Foundation
How do your portfolio organizations use Autodesk technology?

From creating 3D-printed coral molds for reef restoration to using Autodesk Forge to scale sustainable construction, nonprofits and social enterprises are bringing innovative solutions to market with Autodesk technology. Autodesk Foundation's portfolio organizations have been recognized for their use of technology for good. For example, Build Health International received the AEC Excellence 2020 Better World Award for its Saint Rock Hospital project in rural Haiti.
Learn more about how Foundation portfolio organizations use Autodesk technology to design a thriving future.
How are Autodesk employees involved with the Foundation?
Every Autodesk employee is invited to apply their expertise—ranging from engineering and design to marketing and operations—in support of nonprofits and social enterprises addressing pressing social and environmental challenges. More than 40% of Autodesk employees engage in volunteering, pro bono consulting, or charitable giving with the Autodesk Foundation.
Autodesk employees are directing their time and energy towards impact now more than ever. Just last year, employees donated a record $2.8 million to 4,000+ organizations worldwide. Donations were bolstered by 2:1 and 1:1 match from the Foundation, contributing another $2.8 million.
Many employees have stayed engaged while working from home through virtual volunteering ranging from penguin research to conservation mapping. Employee expertise has helped solve complex problems alongside impact-forward organizations through pro bono consulting, like integrating contactless biometric data with a database tracking COVID-19 cases for Autodesk Foundation portfolio organization Simprints.
Learn how Autodesk employees are making a better world with the Foundation.
Does the Autodesk Foundation have a program for crisis response?
From natural disasters to global pandemics, the frequency and severity of unexpected crises has been steadily increasing. In 2020, the Autodesk Foundation deployed more funding to fight crises than the previous five years combined. The Foundation's crisis response framework leverages Autodesk's unique expertise and perspective to respond to unexpected events that negatively affect Autodesk's communities, customers, and employees globally. Underlying this work is a commitment to building resilience and adaptability as we anticipate more turbulence in the future.
Read more about the Autodesk Foundation's crisis response work including COVID-19 response.
How does the Autodesk Foundation measure its impact?
A rigorous impact measurement practice optimizes long-term impact in both traditional philanthropy and investing. To make better investment decisions, remain accountable to Autodesk, and move the impact management field forward, the Autodesk Foundation uses a unique impact management strategy, inspired by best practices from leaders such as Acumen, Impact Management Project (IMP), and the Global Impact Investing Network (GIIN).
The Autodesk Foundation frames investments within an impact opportunity area with custom impact metrics. We then use baseline surveys, reporting, third-party auditing, and lean data to track metrics like greenhouse gas emissions, work placements, product innovations, and beneficiaries reached through portfolio organizations. Forward-looking metrics like CO2 emissions reduction potential are also included.
Find out more about the management and measurement of each impact opportunity area: energy and materials, health and resilience, and work and prosperity.
"By taking a risk-tolerant approach to philanthropy and impact investing we can scale impact beyond what traditional grantmaking can do." – Joe Speicher, Executive Director of the Autodesk Foundation.
How do I find out more?