Last update: Friday, Nov 22, 11 am
---
Thank You AU!
And that's a wrap! Thanks for following along with us during a very eventful week at AU Las Vegas. In case you missed it, here's all the news we shared this week:
Day 3: Almost Made It
The keynote sessions may have wrapped on Wednesday, but AU kept attendees busy on Thursday with a full schedule of classes, expo tours, and community meetups. Here's are some more highlights from the AU Expo: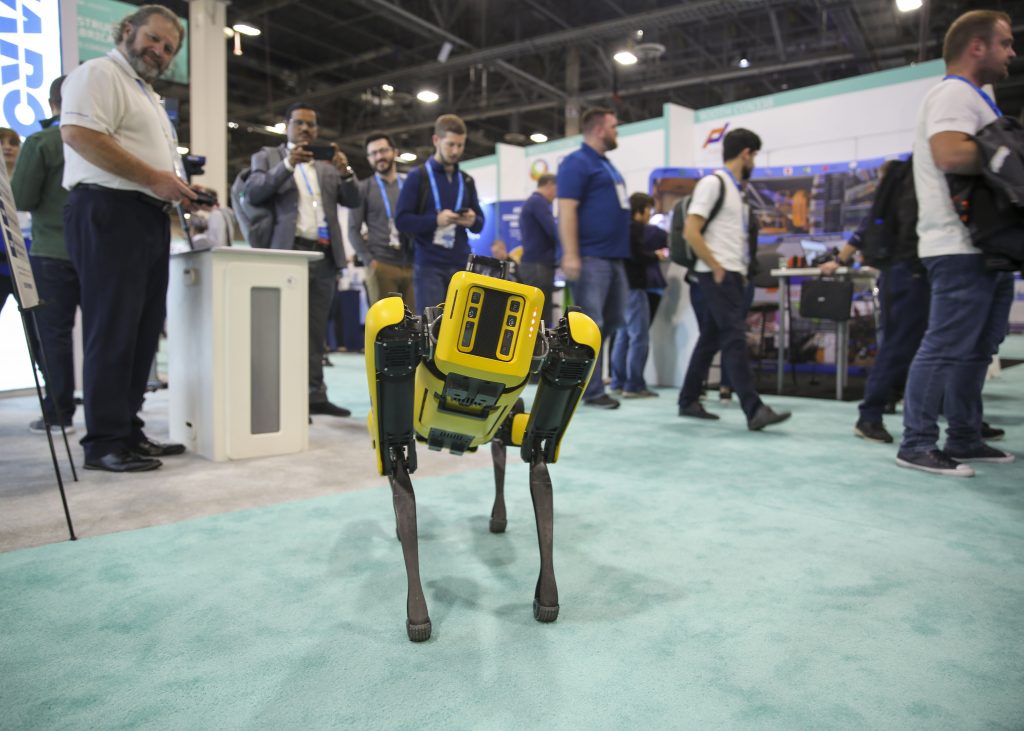 We caught up with the SPOT Mini robot from Boston Dynamics. Equipped with AI-powered scanning and capture technologies from FARO, HoloBuilder and Trimble, SPOT can document work on construction job sites while providing a more accurate and high-fidelity insights into a projects's progress. Read more about it here.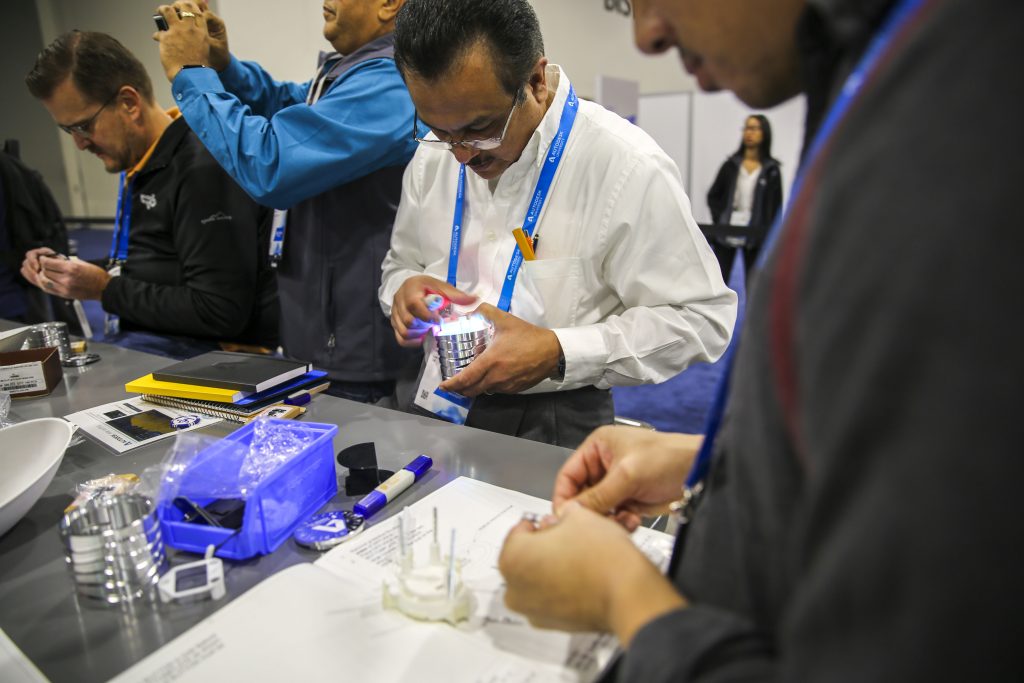 At the Fusion 360 Factory, people lined up to assemble their own personal LED air sensor, designed and fabricated entirely with Fusion 360.
A concrete 3D printing industrial robot from Saint Gobain demonstrated the latest evolutions in 3D printing for construction. Read more.
Product Design & Manufacturing Keynote
Weds, Nov 20, 1:30 pm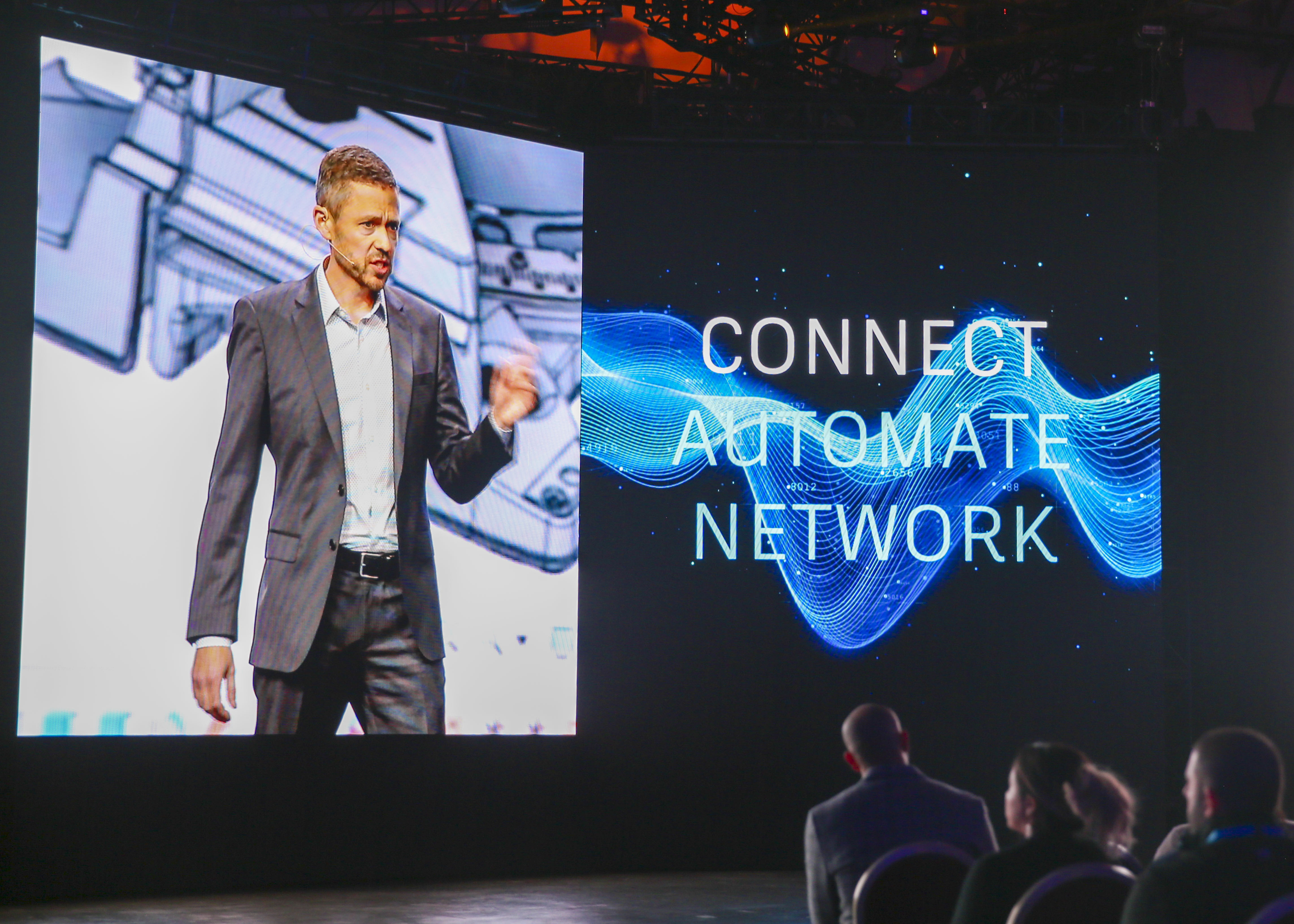 *Before we dig in, check out this special offer for Fusion 360 customers: FREE and UNLIMITED access to generative design for the rest of the year, courtesy of AWS and NVIDIA.
This afternoon, the Product Design & Manufacturing keynote (watch the replay) opened with Greg Fallon, VP of business strategy and marketing at Autodesk. He laid out the theme for the session, underscoring how Autodesk is helping customers seize the "opportunity for better" by helping them connect workflows, automate proceses, and network with the entire supply chain.
Greg introduced two special guests to the stage—Autodesk CEO Andrew Anagnost and ANSYS CEO Ajei Gopal—to discuss a newly formed alliance between the two companies to allow seamless interoperability across ANSYS and Autodesk products to drive revolutionary design and engineering agility for their customers. Read the announcement.
Jon den Hartog, Director of Product Management for Inventor and Vault, explained how Autodesk is connecting key parts of the Product Design and Manufacturing Collection. Key updates coming to Inventor include a modernized user experience and the ability to directly reference BIM models directly within Inventor.
Data, process, and people have to be tightly connected so we're working on connecting Vault and Fusion Lifecycle.
Steve Hooper, VP and General Manager of Fusion 360, took over to share what's coming to the cloud-based product development platform: a completely integrated electronics experience—the first truly integrated solution for smart product development that's ever existed. Read the announcement.
In the past year, Fusion 360 has also seen the integration of the powerful manufacturing capabilities in PowerMill, FeatureCAM and Netfabb, making it a singular platform for integrated manufacturing.
Lastly, Hooper reminded the audience of the powerful generative design capabilities in Fusion 360, which now includes the ability to predict manufacturing costs, thanks to an integration with aPriori.
Remember to check out the special offer for FREE access to generative design for the rest of 2019!
AEC Industry Keynote
Weds, Nov 20, 10:30 am
AU, Day 2
Weds, Nov 20, 10 am
We made it to Day 2! Today we're digging into the industries with two keynote sessions (live stream them here) that will focus on the latest innovations in AEC and Manufacturing  We'll recap those for you as they happen, but here's what to check out this morning:
The AU Expo hall is open for business, featuring the incredible things that our customers design and make with Autodesk tools. There's the first-ever mass-produced chair made with generative design, a life-sized hyperloop pod, and the very same VW bus that joined Andrew onstage during yesterday's general session.
We'll catch you after the keynotes!
Day 1: General Session
Tues, Nov 19, 10:30 am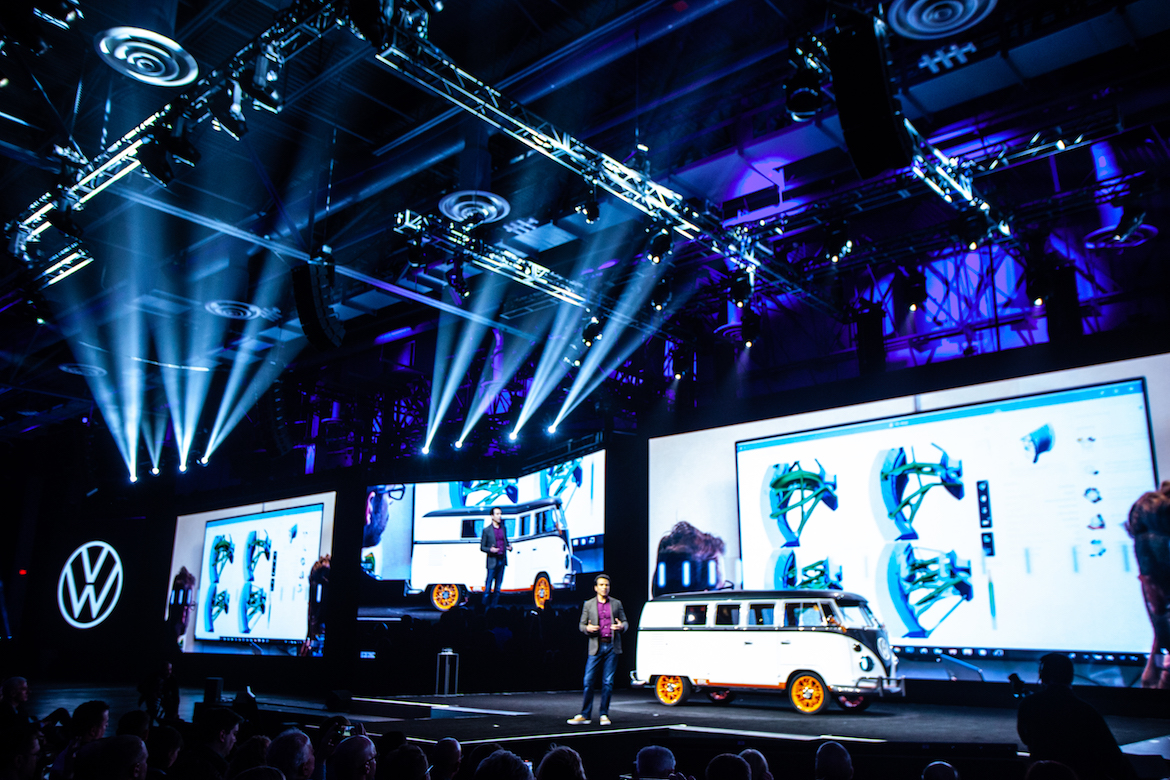 In the General Session keynote, CEO Andrew Anagnost began by laying out just what is meant by the "opportunity for better'':
Better Energy and Materials—by making better use of energy and materials, we can make our dependence on fossil fuels a thing of the past.
Better Health & Resilience—by designing products and buildings that prioritize people's health and well-being.
Better Work & Prosperity—by creating more meaningful work and a path to prosperity for more people.
Here are some of the highlights from this morning's session:
Autodesk customers are already seizing the opportunity for better. One of them is Marriott, who, with Skystone, is using modular construction and automation to drive efficiency across all phases of the construction of their hotels. Today, Marriott and Skystone are building the world's tallest modular hotel—the NoMad in Manhattan. Read the announcement.
Next up, Andrew welcomed Dr. Elizabeth Hausler, the CEO of Build Change, to the stage. Build Change creates earthquake and climate resilient housing in emerging nations. Dr. Hausler discussed how Build Change uses automation and AI to better assess how buildings can be retrofitted, which in turn allows them to more quickly ensure safer and better housing in the communities they serve.
Andrew then welcomed another special "guest" onto the stage: a re-imagined Volkswagen bus. Nicknamed "ID Buzz", the vehicle boasts an all-new electric drive train and generatively designed wheels, which are 18% lighter than the standard set, and can be produced in a third of the time (from 18 to 6 months).
Last but not least! Today, Airbus and Autodesk announced the next phase of their work together since they unveiled their first generative design collaboration in 2015. Now, they've applied the technology to two new—and much larger—components. Check out the announcement.
Day 1: Good Morning from AU!
Tuesday, Nov 19, 9:30 am
Autodesk University has officially begun! Die-hard attendees–more than 300 of them!–rose before the sun this morning for the annual AU 5K and Fun Run.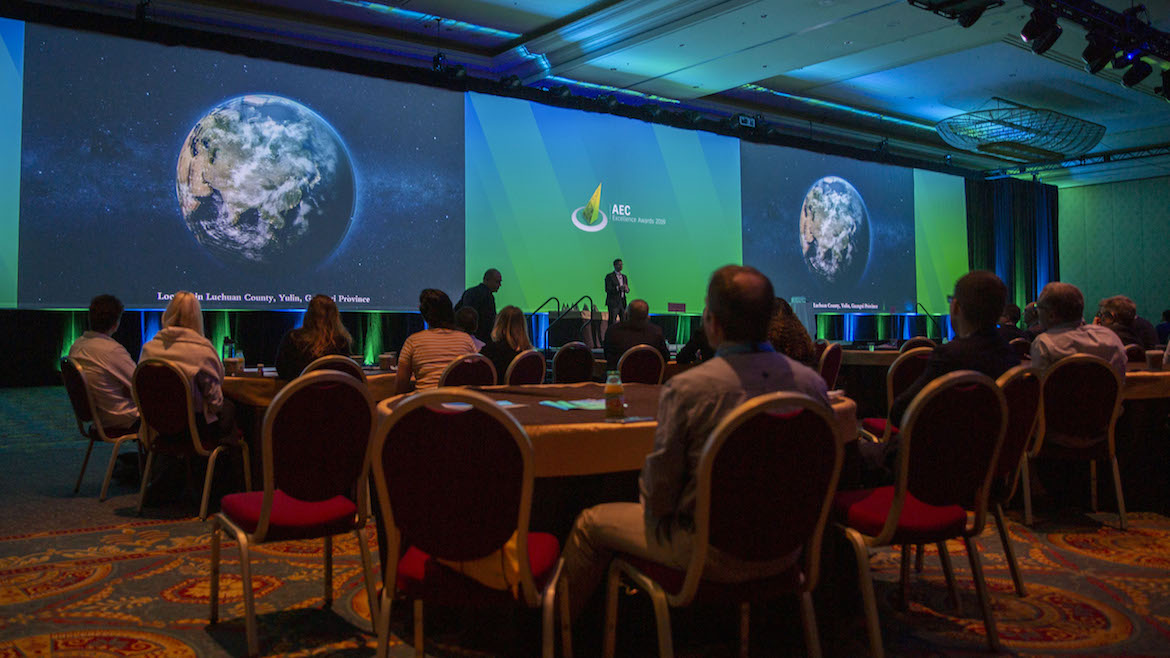 There's plenty of activity this morning in the lead-up to the opening keynote. We celebrated some of our most inspirational customers at the AEC Excellence Awards Breakfast– read more about the winners here. At the Future of Work panel, we heard from technologists from GHD Innovation and Foster + Partners about what the future holds for the next generation of workers and designers.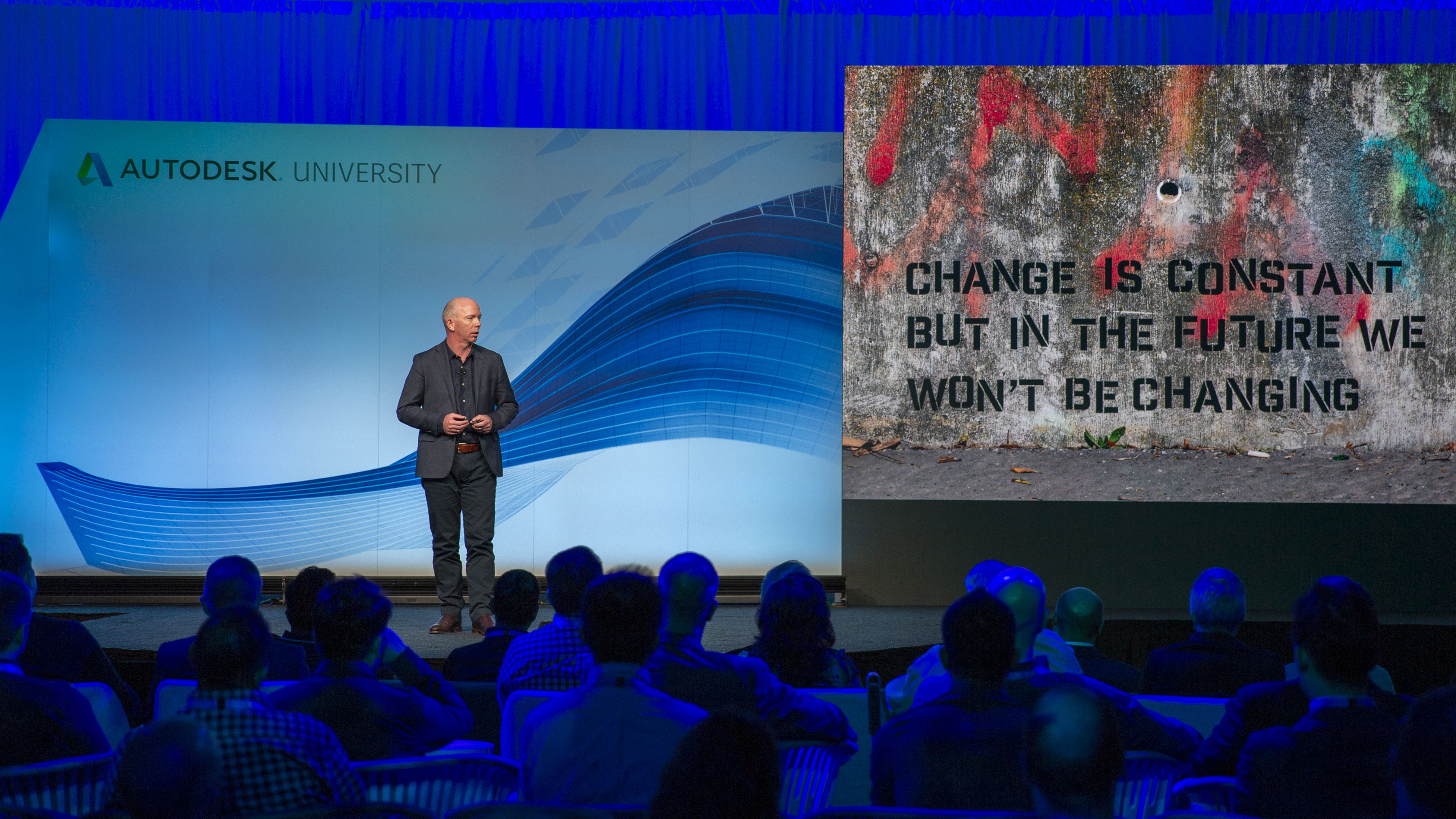 There's lots more to come today, including some exciting announcements that we'll be sharing soon. See you after the keynote!
Construction News From Connect & Construct
Monday, Nov 18, 11 am
On Monday, the Connect & Construct pre-conference started off with a keynote led by Jim Lynch, vice president and general manager of Autodesk Construction Solutions. He began by recapping some recent news, including the expansion of BIM 360 Design and a partnership with the Associated General Contractors of America to provide properly-fitting safety equipment for women in construction.
Onstage, Lynch introduced another piece of big news—the arrival of Autodesk Construction Cloud, which brings together one of the most powerful portfolios of construction management software products in the industry.
Autodesk Construction Cloud represents a significant jump forward in the evolution of our four products—Assemble, BuildingConnected, BIM 360, and PlanGrid. We've strengthened them with more than 50 new enhancements, fundamentally transforming the value they deliver to customers with deep connections between them. More than 18 integrations are available to help your data flow easily between all phases of construction, from design to planning to building and operations. For more details, check out this blog post on Autodesk Construction Cloud.
Live from AU: The Opportunity for Better Starts at Autodesk University 2019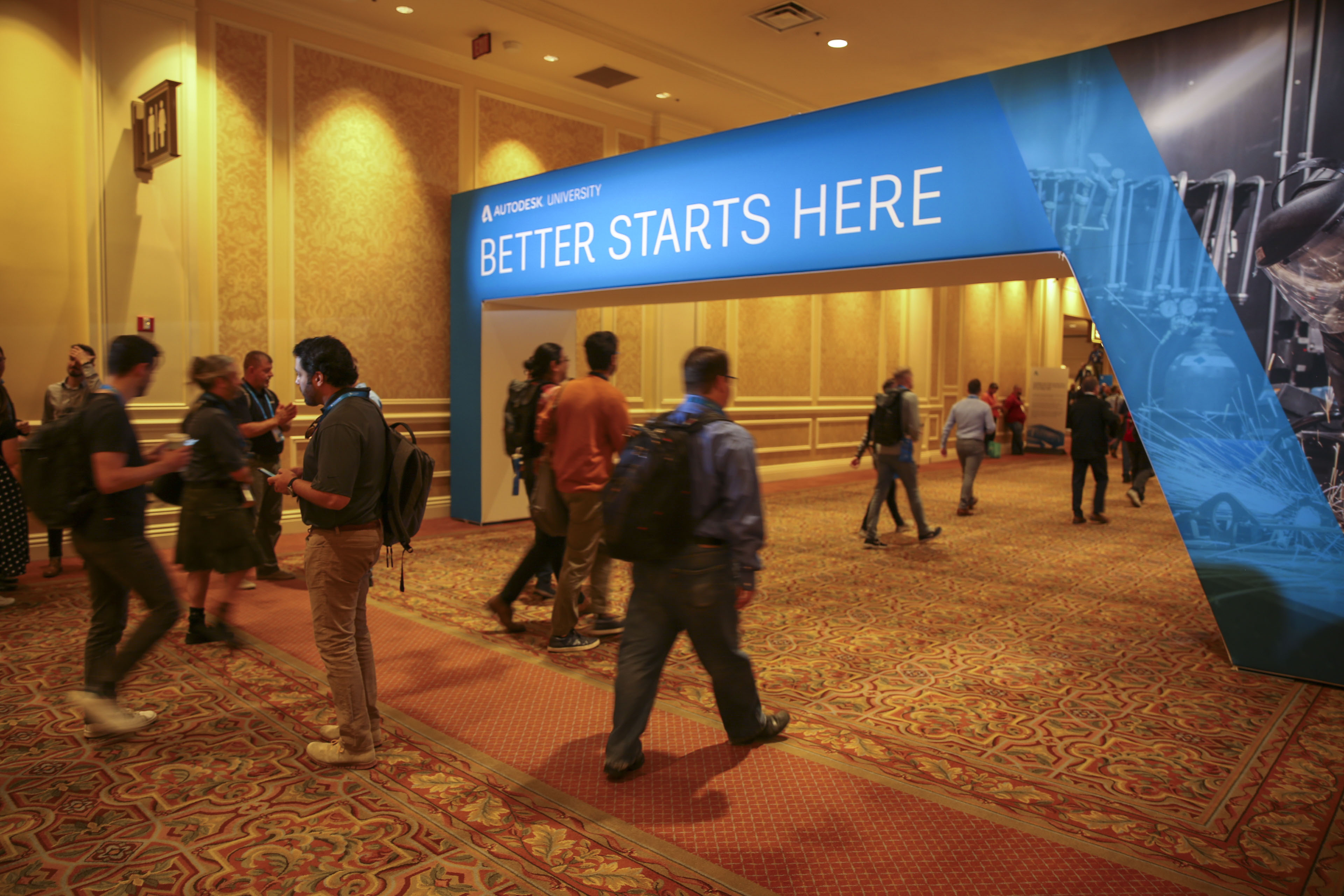 This week, we're at Autodesk University Las Vegas, our annual 4-day user conference that connects over 12,000 global professionals from construction, manufacturing, architecture, engineering and media creation. This year, we're focused on seizing the opportunity for "better"– how we can achieve better workflows, better outcomes, and a better impact on the world around us. 
If you're not here with us in Las Vegas, you can check out the live stream throughout the week (schedule here) and follow along with us right here, where we'll be posting regular updates to keep you informed.
Here are some of the highlights you can expect this week…
Pre-conferences start today with the Connect & Construct Summit, and tomorrow the conference will officially kick off with an opening keynote from Autodesk President and CEO Andrew Anagnost, who will revisit Autodesk's ongoing commitment to providing industries with tools to do more, with less negative impact on the planet. He'll be joined by guest speakers, including Build Change founder and CEO Dr. Elizabeth Hausler, as well as Walt Disney Imagineering executive creative director Asa Kalama. 
Two industry keynotes will focus on the latest developments for customers in the architecture, engineering and construction (AEC) industry, and the design and manufacturing industry. These sessions will both explore the innovations happening in each industry and demonstrate the ways these areas are converging to enable better cross-industry innovation. 
Conference attendees will get hands-on experiences at the AU Las Vegas Expo, which showcases the technologies that are actively changing how our customers design, make and build. Examples include the first mass-produced chair created by human designers using AI technology ; the world's largest, AR-enhanced hybrid manufacturing machine; digital and data-driven innovations within sustainable water infrastructure design; and space dedicated to a high-performance basketball and entertainment center with community at its core. 
Here are some other things to know about AU Las Vegas 2019:
Throughout the conference, we'll share details on new product advances, partnerships and initiatives that will help our customers embrace the opportunity for better.
To keep up with all things AU, follow us live on these channels: