This week, Autodesk's Design Night made its debut in India as the opening event of Hyderabad Design Week, organized in tandem with the World Design Organization's (WDO) 31st World Design Assembly in the city.
Under the theme of Humanizing Design, Hyderabad Design Week includes exhibitions and activities that demonstrate the power of design to improve lives. With this context, Design Night India centered on how the power of AI makes for better design and greater positive impact, featuring local and global innovations in generative design.
Generative design is a promising new manufacturing technology that uses the power of AI and the cloud to let designers explore all possible permutations of a solution, quickly generating alternatives so they can select from more manufacturing-ready design options, far more rapidly than was ever conceivable before. This allows for more efficient workflows, and more importantly, design that is best fit for purpose.
Here's a look at the exhibits displayed at our exclusive gallery:
Social Hardware's Avocado Wrist Connector
At the heart of the event was the launch of Indian start-up Social Hardware's new modular Avocado Wrist Connector, named for its resemblance to the fruit. We collaborated with the team to apply generative design to the connector, focusing on minimizing weight while ensuring strength and durability – a problem often faced with a typical single prosthetic hand and socket device.
In India, the highest rate of amputation occurs in low-income, rural areas – home to more than two-thirds of the country's population – thanks to road, railway, and agricultural accidents, preventing amputees from returning to work. Available assistive devices are often too expensive, or too heavy and fragile for demanding field work.
Generative design enabled the team to address these issues, reducing the weight of the connector from 300g to just 96g, a result that would have taken months through traditional design methods, but instead took less than a week. The result is a lightweight, breathable socket that offers users greater control and mobility as it allows them to quickly switch between tools essential to agricultural work, as well as address issues such as sweat and heat when doing intense work in humid environments.
Read more about what generative design is, and why it's a game changer.
Attendees at the event also got to take part in activities to see how the connector works. Some tried their hand at sketching out designs for tools for the connector and seeing their ideas 3D modeled in real time by our Fusion 360 expert, with the best ideas standing a chance of being put in production by Social Hardware. Participants also got a taste of what it's like to use the connector, using a shovel tool to plant seeds in a pot they could take home with them.
Learn more about generative design and Social Hardware's groundbreaking innovation.
Autodesk x Volkswagen
To celebrate the 20th anniversary of its largest vehicle research facility outside of Germany, Volkswagen reimagined their iconic VW bus using generative design, focusing on maximizing strength while minimizing weight—a critical aspect when designing electric vehicles. As a result, the new wheels are 18% lighter and overall development time from design to manufacture was cut from 1.5 years to just a few months. The end result adds a fresh, modern twist to the classic VW bus.
Under Armour's first 3D-printed performance trainer
Inspired by nature and architectural structures, Under Armour used generative design to iterate and perfect a sole structure that is ground-breaking in both design and manufacturing. By leveraging complex lattice structures possible that could only be possible with additive manufacturing, the resulting sole provides performance advantages over other high performance shoes.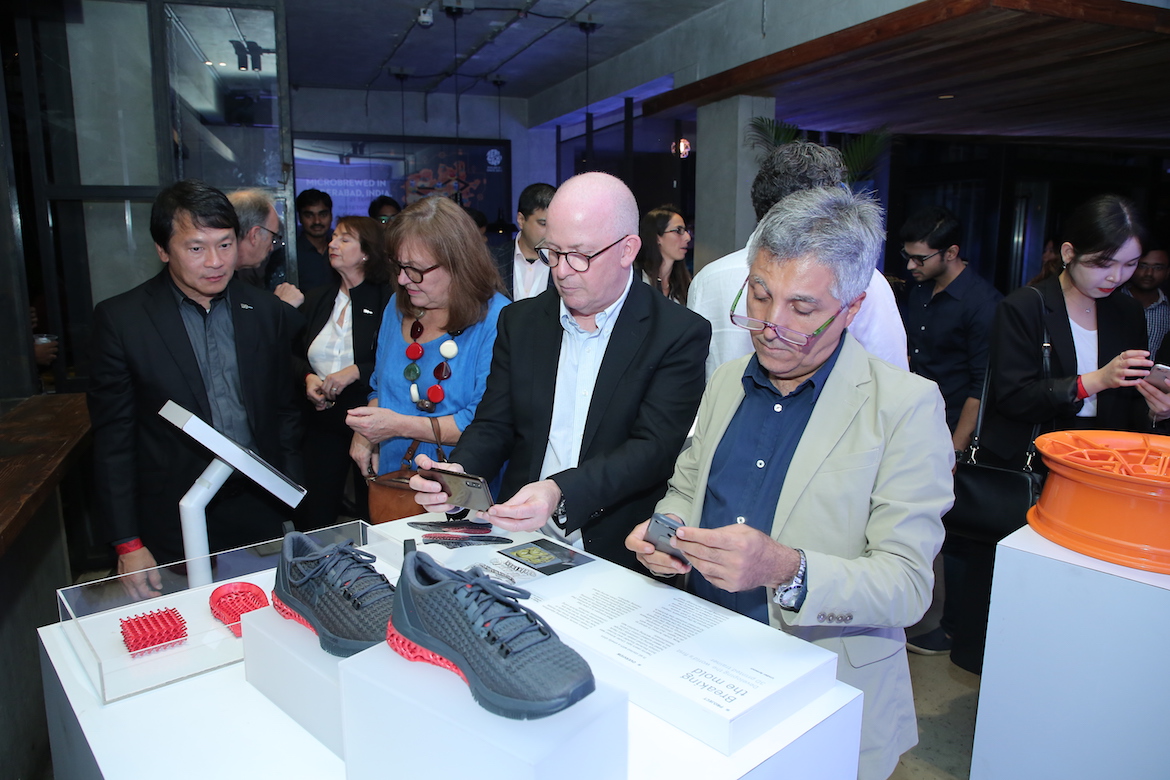 GM used generative design technology to re-conceive a small but important vehicle component – the bracket where seat belts are fastened. With a new organic structure design no human could have imagined, the improved seat belt bracket is 40% lighter and 20% stronger than the original part. The new part also consolidates eight different components into one 3D-printed part, making it cheaper and quicker to produce.