A version of this letter appears in Autodesk's Impact Report.
A year ago, we were already acutely aware of the importance of the momentous decade ahead. And yet, 2020 surprised and tested us in unprecedented ways. I reflect on the year—one defined by a global pandemic, worldwide demands for racial justice, rising inequality, political instability, and a warming climate—with a mix of humility and optimism.
Above all, the year demonstrated the critical importance of adapting to our ever‑changing world. I was profoundly inspired by the enduring strength and resilience of our global community, and that of Autodesk customers, employees, and partners worldwide. I remain humbled and grateful that Autodesk is supporting and empowering newly distributed workforces to accelerate digital transformation and use the full power of the cloud to design and make things in entirely new ways.
Looking to the decade ahead, I am encouraged by the momentum behind stakeholder capitalism and the drive to measure and improve environmental, social, and governance performance alongside financial returns. In fact, I believe the path to sustainable long‑term financial returns is defined by the needs of our stakeholders—particularly those of our customers. More and more of our customers are aligning their growth goals with the UN Sustainable Development Goals, showing a balanced approach to creating value.
It's been over a decade since we launched our first sustainability report at Autodesk. This year marks a new chapter for us, having sharpened our impact strategy to accelerate positive outcomes.
We remain steadfast in our commitment to work as a business, and in partnership with our customers and industries, to:
Enable better energy and material choices reducing GHG emissions and waste;
Accelerate the design and make of products and places that are safer, healthier, and more resilient; and
Advance equity and access, while helping people learn, adapt, and prosper through change.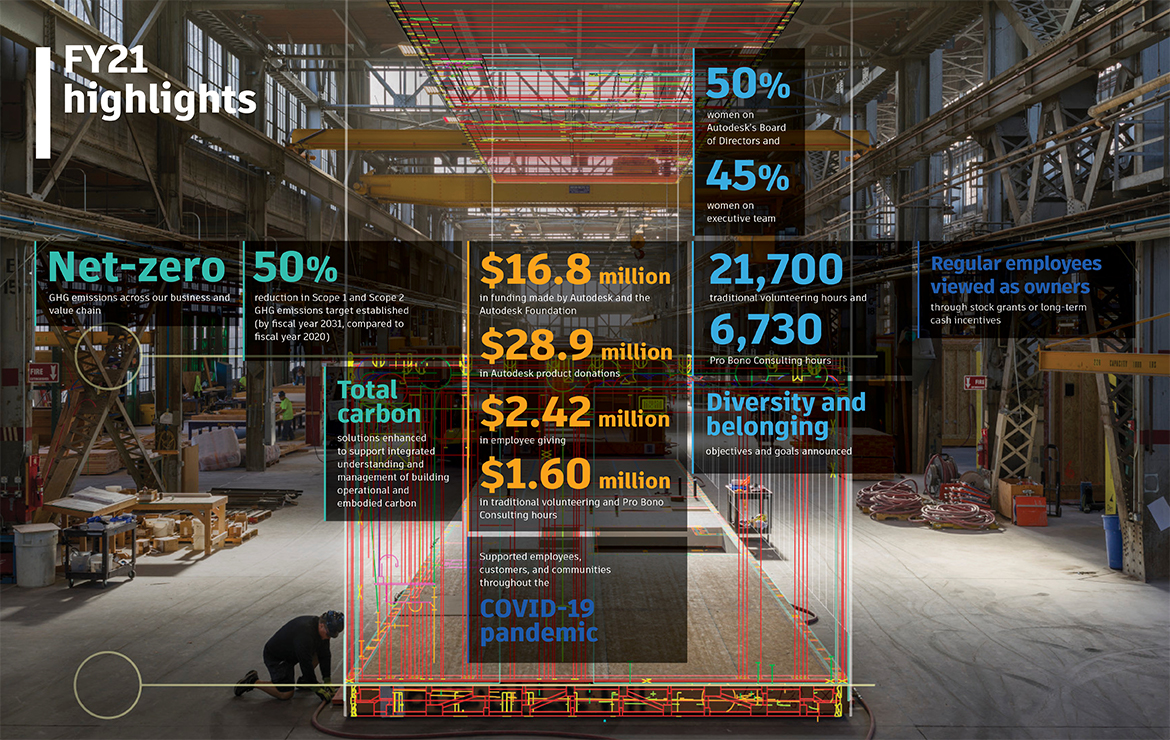 Partnering with customers
Undeniably, our largest opportunity to create positive impact at scale is by supporting our customers with the technology they need to unlock insights, make better decisions, and achieve superior outcomes. Our software platform helps automate complex processes and transform data into actionable insights that empower innovators to improve the impact of everything they design, make, own, and operate. Cloud solutions and connected data environments fuel innovation—across technology, processes, supply chains, and industries. This opportunity is only accelerating.
Over the last year, we announced acquisitions of Pype, Spacemaker, and Innovyze to help customers automate and gain insights on construction process efficiency, sustainable building site layouts, and water infrastructure projects. We launched the Autodesk Certification Program to empower professional users and students worldwide to learn new skills and created an online platform of learning pathways for each of the industries we serve.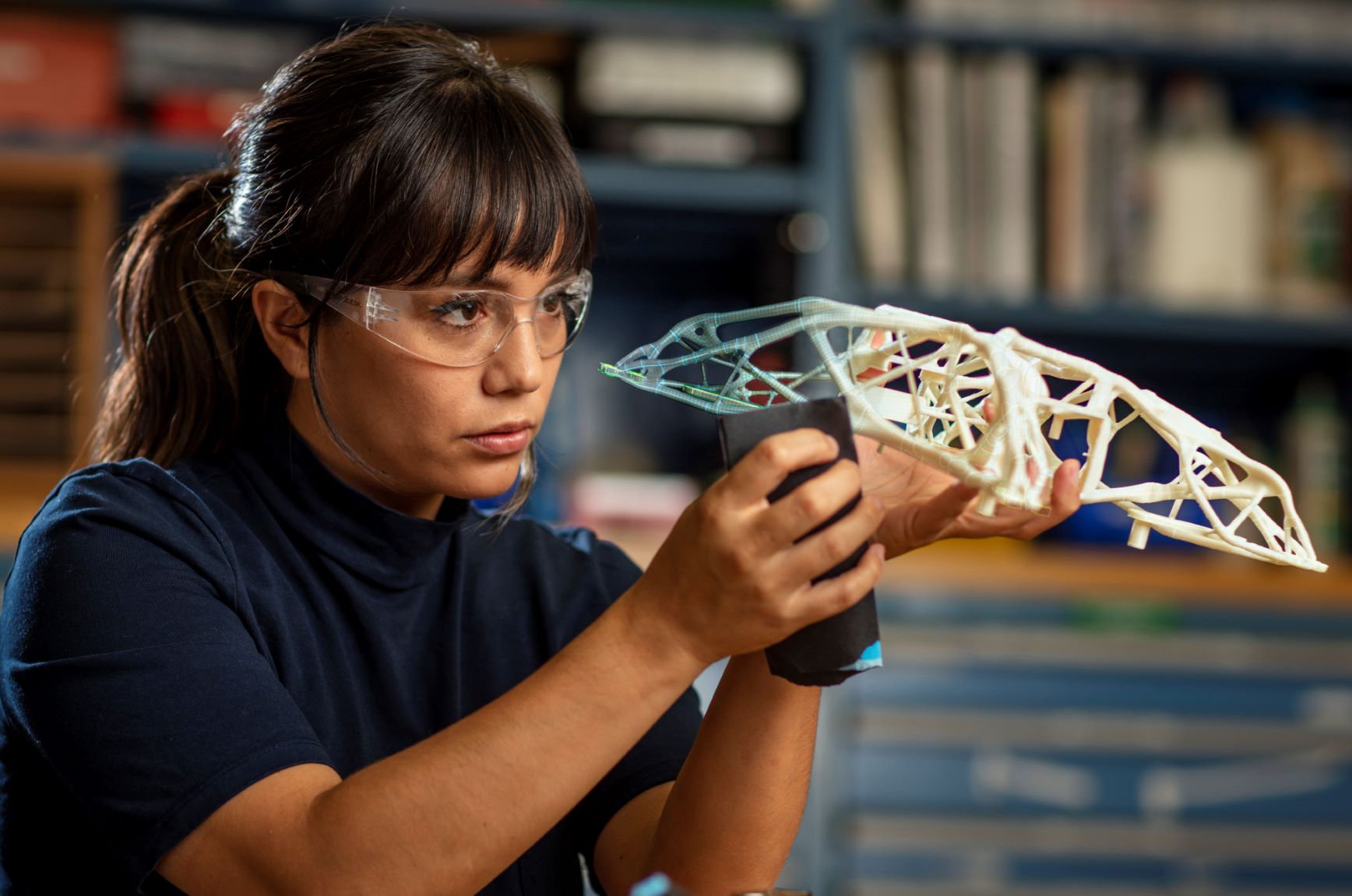 Advancing industries
Still, progress today demands that we work beyond industries to accelerate cross‑sector collaboration and catalyze industry‑wide innovation. Last year, Autodesk, the Autodesk Foundation, and Autodesk employees expanded our philanthropic giving to respond to COVID-19, natural disasters, racial injustice, and rising inequality. During the year, Autodesk and the Autodesk Foundation gave $16.8 million, and $28.9 million in Autodesk software, to nonprofits and social enterprises worldwide. Employees across 38 countries donated a record $2.42 million, bolstered by both 2:1 and 1:1 matching from the Autodesk Foundation.
We also believe in engaging governments to drive public policies around the world that enable people to design and make a better world. Last year, we led an effort with other technology brands to urge Congress to include support for workforce development, including digital skills, in COVID‑related relief legislation.
Improving our operations
We continue to lead as a business, advancing our sustainable business practices and empowering employees to make a positive impact. We achieved our target of net‑zero carbon emissions as we launched the Autodesk Carbon Fund with an updated price on carbon. We are now announcing our next science‑based GHG emissions reduction target, balancing our focus on efficient operations with our net‑zero carbon and 100% renewable energy commitments.
We are equally committed to building a more diverse workforce with a strong culture of belonging. Autodesk's Board of Directors is 50% women, and 45% of our executive team is women, up from 27% in 2018. We are working to create an inclusive environment and I'm proud that every regular employee of the company is viewed as an owner through stock grants or long‑term cash incentives. Finally, we are announcing new goals that will increase diversity throughout our general employee base and leadership roles.
The last year proved without a doubt that we live in an increasingly interconnected and fragile world. While the challenges remain daunting, our collective potential is stronger than ever. Now is our time to work together—to blur boundaries, break barriers, unleash talent, and unlock insights across industries.
This decade demands more action from all of us and I am optimistic that collectively we will rise to the challenge. Please join us on our journey to design a more sustainable, resilient, and equitable world.