Livrea, an Italian based start-up founded by two Sicilian boat builders, has made a major step on its quest to build the world's first 3D printed racing yacht with the manufacturing of its largest single component to date, which will be shown this week at RAPID at the SABIC booth #2537.
Livrea co-founders Daniele Cevola and Francesco Belvisi wanted to explore how emerging technologies and production methods could take racing yachts to the next level while simultaneously reducing the time and cost traditionally associated with hand crafted boat building.
Working with Autodesk's advanced research team, the founders have gone from drawing designs by hand to 3D modeling in the Cloud using Autodesk Fusion 360 software. They are then harnessing the power of additive manufacturing and 3D printing the yacht's hull with advanced, multi-material, polymer composites.
The new design and manufacturing process has cut production times from months down to hours, while also saving the company money on materials and cutting back on waste. This new process also allows Livrea to lightweight components and continue to test new materials, which will be crucial for their first yacht to be competitive in any future races. Finally, the process also allows Livrea to create complex curvature that improves hull performance, which would not be possible when building with wood and using more traditional manufacturing methods.
"Our passion was to continue the great tradition of Sicilian boat building by taking boat design and manufacturing to the next level," says Daniele Cevola, co-founder of Livrea. "By moving to Cloud design, robotic additive manufacturing and new advanced materials, we have been able to make huge steps in achieving our goal of having what we believe will be the world's first fully 3D printed yacht."
The project is one of the first industrial examples of the large-format, multi-function robotic additive manufacturing systems in development by Autodesk's advanced research team. The system leverages advanced motion control and machine vision to synchronize robotic and extruder manufacturing. This research aims to unlock the power of machine learning, robotic guided vision systems and additive manufacturing and advanced materials with new "free-form" material layup strategies. The connection of machine learning with vision systems also opens up the ability to do in-process monitoring and learning.
Of course, in order to print components of this size and with these new materials, a specialized 3D printer was needed. That's when Autodesk turned to partner SABIC, a global leader in thermoplastic technology. Working collaboratively with Autodesk and Livrea, processing experts at SABIC used the company's Big Area Additive Manufacturing (BAAM®) machine to print the hull components using two materials from SABIC's THERMOCOMP™ AM portfolio: carbon fiber reinforced PPE compound for the hull's outer layer, and carbon fiber reinforced PEI for the inner lattice support structure.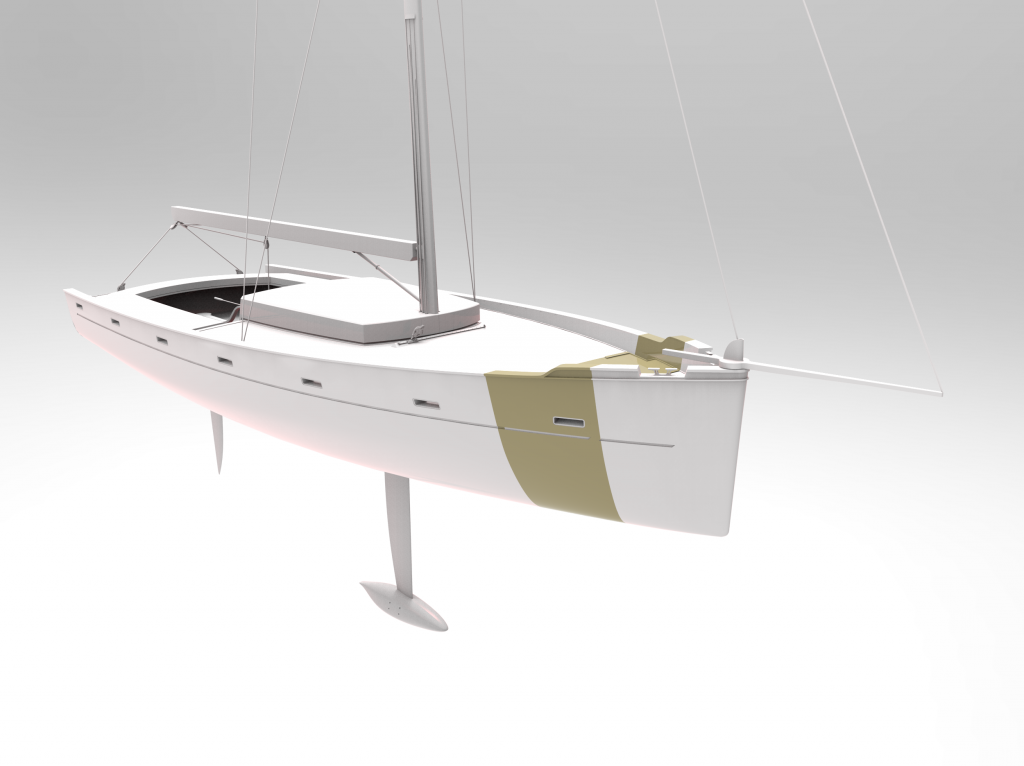 "Livrea is a great example of a company that is committed to exploring the future of making things and shaking up its industry," says Massimiliano Moruzzi, senior principal research scientist at Autodesk. "Together with SABIC, we are using the very latest in advanced manufacturing techniques and materials to demonstrate what is possible in the here and now. Autodesk is honored to help Livrea on its quest to manufacture the world's first 3D printed yacht and we look forward to seeing how these new processes influence other industries moving forward."
Livrea plans to have its 3D printed yacht complete in time to race at the 2019 Mini Transat, a solo transatlantic race that typically starts in France and ends in Brazil covering over 4,000 miles.
To see the additively manufactured parts up close and to learn more about the project, visit an Autodesk representative at SABIC booth #2537.
THERMOCOMP is a trademark of SABIC. BAAM is a registered trademark of Cincinnati Incorporated.