Three Autodesk customers—Airbus, Asius Technologies and Under Armour—have each just been honored with the Frost & Sullivan Manufacturing Leadership Award, thanks in part to their innovative use of Autodesk design tools. The Manufacturing Leadership awards recognize manufacturers across a number of categories for their contributions to "shaping the future of global manufacturing."

These three companies have embraced advanced manufacturing technologies such as generative design, cloud-based tools and 3D printing to develop and fabricate products that set themselves apart from their industry peers.
"At Autodesk, our goal is for customers to use our software to make anything they can imagine and reinvent their industries in the process," said Lisa Campbell, Autodesk VP of Design & Manufacturing. "We're thrilled that these three companies, which so embody the future of making things, are being recognized for bringing advanced manufacturing out of the research lab and into the mainstream."
The awardees were recognized for their pioneering work in three different categories:
Sustainability Leadership: Airbus harnessed the power of generative design using Autodesk Within to develop an airplane partition that weighs 45 percent less than its traditional predecessor, thereby dramatically reducing fuel consumption and carbon emissions.
Image courtesy of Airbus
Engineering and Production Technology Leadership: Under Armour created a new kind of athletic training shoe that achieves the right combination of stability and flexibility for aerobic and strength training. Under Armour made innovative use of 3D printing and generative design with tools including Autodesk Fusion 360 and Autodesk Within.
Image courtesy of Under Armour
Smart Product Leadership: Asius Technologies developed a patented audio technology that allows musicians to listen to high-fidelity sound without damaging their hearing.  Asius used Autodesk Inventor and Fusion 360 to prototype and customize its designs for some of the world's greatest musicians, including Stevie Wonder and the band KISS.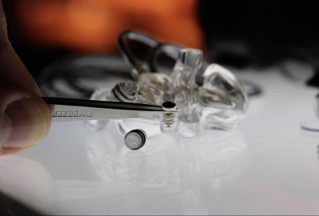 Image courtesy of Asius
 Frost & Sullivan's Manufacturing Leadership Awards, now in its 13th year, honor manufacturing companies and individual manufacturing leaders that are shaping the future of global manufacturing. Winning projects and individual manufacturing leaders have demonstrated achievement in one of a wide range of categories, and are chosen by a panel of expert judges for results that enabled the manufacturers to set themselves apart from their competitors and that have delivered clear and compelling value, return on investment, and other tangible outcomes.  More detail on the Frost & Sullivan Manufacturing Leadership Awards is available here.