Autodesk University Ceremony Honors Mortenson, BIAD, and Rambøll Sweco ANS with 1st Place for Construction, Building and Infrastructure Industries Respectively
By Jessica Brill, Autodesk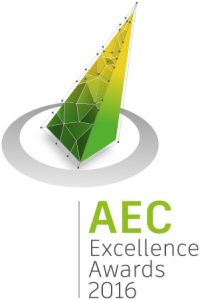 At a special AEC Excellence Awards luncheon today co-sponsored by Autodesk and Hewlett-Packard at Autodesk University 2016 in Las Vegas, Mortenson, BIAD, and Rambøll  Sweco ANS were awarded 1st Place Awards for Construction, Building and Infrastructure respectively. Tianjin Architecture Design Institute (TADI) and Nina Maritz Architects were also honored as the winner in a special Philanthropic category. This year's competition showcases projects embracing the future of making things for AEC and civil infrastructure through the use of innovative and connected BIM technologies.
The response to the competition this year was impressive, with 162 submissions and 29 countries represented. China had the highest number of overall submissions, followed by the USA and India.  It was a tough job for our panel of experts to evaluate all 162 submissions to narrow down to the top winners, and here they are:
First Place Construction Category: Mortenson for the U.S. Bank Stadium [Minnesota Vikings]
Mortenson received top honors in the Construction category for the recently opened U.S. Bank Stadium, home of the National Football League's Minnesota Vikings.  An architectural marvel, the stadium features a massive transparent roof, zinc metal exterior panels, and the 5 largest pivoting glass doors in the world. By teaming with HKS Architects, Mortenson gave the construction team visibility into the BIM model well before construction began. During the design phase, Mortenson was able to conduct the entire process of building the stadium virtually; eliminating problems before construction even began.  The result – Mortenson completed U.S. Bank Stadium a full 6 weeks early—a first for a U.S. stadium— saving the owners hundreds of millions of dollars less than the cost of similar stadiums.
First Place Building Category: BIAD for the Phoenix Center
BIAD (Beijing Institute of Architecture Design) received first place in the Building category for The Phoenix International Media Center, the new home of Phoenix Satellite Television.  Among one of the most visually breathtaking new buildings in Beijing – if not the world – it features a design inspired by the endlessly curving form of a Möbius strip, leaving visitors to wonder how the design team achieved such a striking form. The answer is that they turned to BIM to connect to insights that informed their design choices. The team decided to work exclusively with BIM tools and use paperless processes, making this project among the first in China to rely solely on BIM. BIM-based planning and conceptual design tools helped the team position the tallest elements of the building to minimize shading on nearby buildings while also improving energy efficiency.
First Place Infrastructure Category: Rambøll Sweco ANS for InterCity Dovrebanen – Sørli-Lillehammer
The Rambøll  Sweco ANS team captured first place in the Infrastructure category for their work on a project to lay 75 kilometers of double track between Norway's Sørli and Lillehammer. For this project the team, hired by the Norwegian National Rail Administration (NNRA), was able to overcome terrain challenges—as well as the tall order of getting approval from more than 100 stakeholders.  The railway corridors cross several valuable landscapes that have significant environmental and cultural restraints, including an important nature reserve. In addition, rail lines would cross a lake, necessitating flood plain analysis. By using 3D simulations, BIM helped the NNRA-led project team design, visualize, and negotiate these environmental complexities. A total of 120 design and approval participants used BIM tools as a central platform to design, propose, analyze, share, build and comment throughout the entire project.
Special Philanthropic Award to Tianjin Architecture Design Institute (TADI) and Nina Maritz Architects
TADI and Nina Maritz Architects received a special Philanthropic Award for a "Fun and Intelligent Cabin" project for a primary school in Huining County, Gansu Province, China. By fully utilizing building performance analysis [BPA] within a BIM process the team modified intelligent 3D models based on different conditions to help find ways to conserve energy—and generate money. Solar power supplies electricity and water heating, so the annual power conserved will make a profit of RMB ¥8,200, making it possible for the initial investment to be paid back in approximately 10 years.
"These winners represent the best of the best of the future of making things in the built world around us," said Nicolas Mangon, vice president of AEC, industry strategy and marketing, Autodesk.  "It's clear today that BIM is here to stay and is the key to business competitive survival going forward.  Our goal with the awards, in part, is to inspire current BIM users to continue to grow, and help motivate newcomers to get on board."
See All the Winners
Mortenson, BIAD, Rambøll Sweco ANS , and TADI and Nina Maritz Architects are just the tip of an iceberg of additional category winners, including design and fabrication, communication and collaboration, computational design, small and large building construction projects, and many more!
To read more about all of the winners of this year's AEC Excellence Awards, check out: www.autodesk.com/aecexcellenceawards.