Seven industry-specific toolsets included; all-new web and mobile apps help subscribers work anywhere, anytime
One. Only One. AutoCAD. There's no longer a need to decide which version of AutoCAD to subscribe to for the job. Starting March 22, those who subscribe to AutoCAD 2019 will gain access to industry-specific features and functionality of SEVEN specialized toolsets with just ONE product.
Customers can also improve productivity with new web and mobile apps.
Let's zoom in on the shiny new AutoCAD:
AutoCAD Boasts 750,000+ Intelligent Objects, Styles, Parts, Features and Symbols
AutoCAD 2019 includes specialized toolsets that allow subscribers to increase efficiency.
The Architecture toolset, for example, can help save time incorporating architectural elements such as doors, walls and widows into a design. Creating a wall requires just three steps with the Architecture toolset, where it previously required five steps with AutoCAD.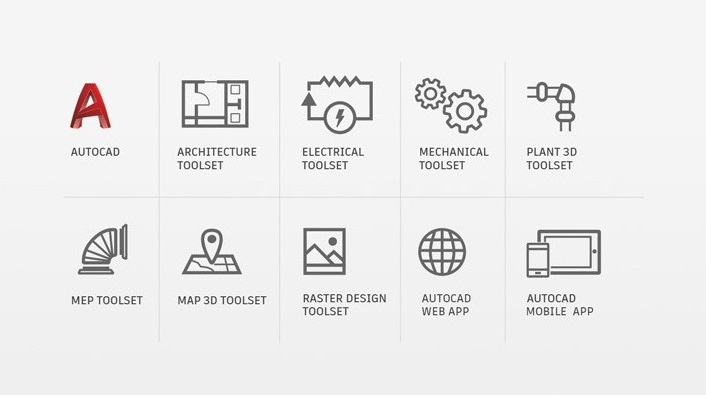 AutoCAD Anywhere – AutoCAD 2019 and AutoCAD LT 2019 subscribers can use the all-new AutoCAD web app by visiting web.autocad.com and logging-in to their Autodesk accounts. The app provides access to Trusted files (not just PDFs!) and core 2D drafting and editing tools.
Owner of Mechanical CAD Design and BIM firm, Point to Point CAD Services, Clifton Schnarr, said "The detail in the AutoCAD web app is just superb! You can see the dimension, the contrast, the color … just all the depths to be seen on a 2D drawing. The resolution is just excellent."
The main perk of AutoCAD mobile app is the ability to make edits anywhere and wow clients without carting bulky blueprints around. WiFi isn't always reliable in the field, but even without it, DWGs can be downloaded locally to a mobile device and modified. Available across Windows, Android, and iOS devices, AutoCAD mobile app is also optimized for the iPhone X, iPad Pro, and Windows Surface.

Specialized toolsets, web and mobile apps, oh my. But wait, there's even more. Learn about the latest features including Save to Web and Mobile, DWG compare, Shared Views and performance enhancements over at the AutoCAD Blog.
And if you're interested in exploring the latest AutoCAD, check it out here.