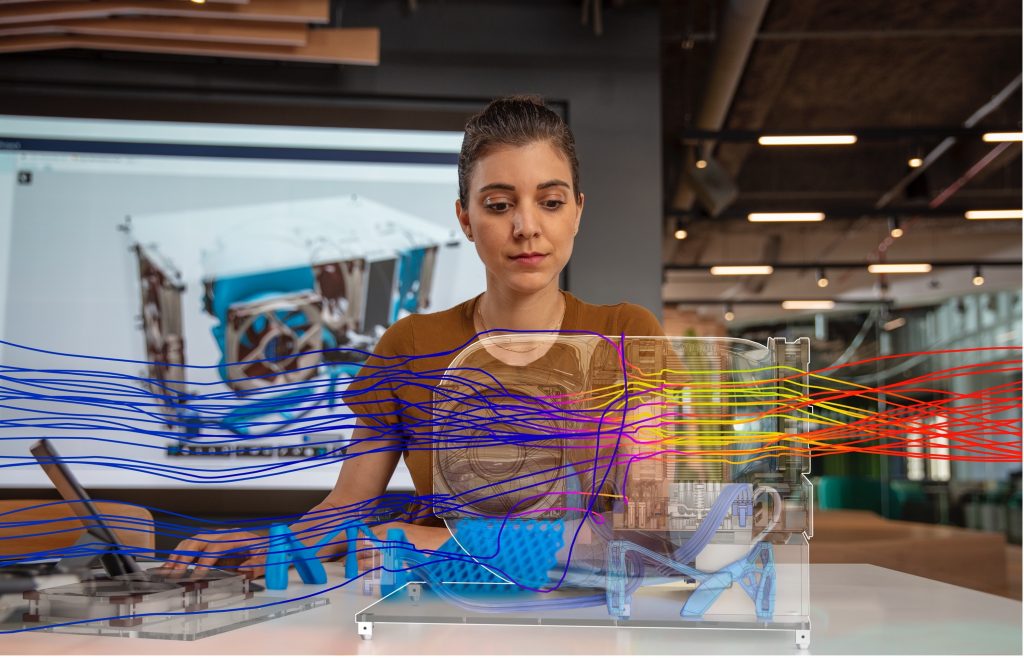 Author and media theorist Steven Johnson says, "If you look at history, innovation doesn't come just from giving people incentives; it comes from creating environments where their ideas can connect."  When I look toward the future of the industries that design and make the world around us, I'm inspired by the opportunity for collaboration and idea exploration that will shape a brighter tomorrow. 
By the middle of the 21st century, we will live, play, and do business in buildings designed to nourish the environment rather than take from it. Our infrastructure networks will be resilient and sustainable, and they will extend to exciting unknown places from the metaverse to the universe. We'll buy products designed with zero waste that are assembled in smart factories. And Autodesk technology will enable this future, every step of the way. 
We're celebrating the last few decades of Autodesk innovation by envisioning what the future holds. Autodesk already boasts a track record of transforming the industries we serve. But what lies ahead has me even more excited.  
I asked my peers across the organization to share their vision for how design will evolve in years to come. I spoke with Raji Arasu, executive vice president and chief technology officer; Jeff Kinder, executive vice president, design and manufacturing; and Diana Colella, senior vice president, Entertainment & Media Solutions. As I expected, they are dreaming big, and so are their teams. 
Our industries will be connected, collaborative, and efficient
Together we see a future of cloud-based, artificial intelligence-powered convergence. We will leap across the digital chasm that now divides us. Data experiences will be simplified, interoperable, and intuitive. Cloud technologies will support remote collaboration, allowing industries to recruit talent from a diverse geographical pool. 
We will all feel more connected than ever. "Media and entertainment companies are embracing cloud technology across the content lifecycle, from production to consumption," says Diana. "As an example, in the future, film production will use highly secure, cloud-based production ecosystems to break down silos, allowing for better collaboration and connection between studios, art departments, visual effects houses, and the on-set crews." 
This will result in production processes becoming easier and more efficient. Artists will focus on their art and think less about the process, unleashing new levels of creativity. And with increased automation and AI, artists will be able to conjure up believable characters, realistic landscapes and fantastical creatures that are editable and animatable, simply through speech, sketch, or reality capture. 
More collaboration in the design and manufacturing industries will unlock productivity. Manufacturing-ready design data will feed directly to every machine and person on the shop floor. And the shop floor itself will be easily reconfigurable, with product lines built in days, and operated with increasing levels of automation.  
Jeff expects that "over the next couple of decades, we will completely reimagine what products look like and how they are made thanks to machine learning and generative design technologies. The rise of artificial intelligence will automate repetitive tasks, and we will see better, smarter products come to market faster. Workers will focus on new skills that require creativity and human ingenuity."  
And what about the Architecture, Engineering, Construction and Operations professionals (AECO) that I think about every day? In AECO, future solutions will connect every professional throughout the built asset lifecycle. Data from the earliest conceptual designs will flow to construction to operations to disassembly, providing insight to enhance work processes over time. Connected data from across disciplines will help unlock unprecedented value across a project's lifecycle.  
Architects will work remotely on projects around the globe, using immersive virtual reality to see, touch, and hear their way to the best design possible. Humans will spend more time on conceptual design, and AI and automation will take care of the details.   
We will realize the power of digital twins. Our infrastructure will be more resilient and responsive. Cities and municipalities will closely monitor and manage their systems and identify challenges before they become crises. Purpose-built solutions will help customers provide clean drinking water and treat wastewater. Systems will learn more and more from one another, sharing insights and optimizing performance in real-time. Building operations will be streamlined; operational impact, reduced.
A sustainable world designed and made for all
My peers and I are confident that by the middle of this century, Autodesk's most significant impact will be on social and environmental issues. We're already known for helping customers simulate and streamline their decisions early in the process to make the biggest impact on sustainability. But so much more is in store.  
"Our world is designed by, built by, and run by software, and AI and machine learning are fundamentally changing the way software works. In the future – and it's already happening now – we won't even be talking about 'machine learning'; it will just be the standard way in which software works. This will provide higher order insights that parallelize work and dramatically improve decision making for all disciplines," Raji says.  
And as Raji notes: "AI and machine learning will change how the world around us is designed and built, and more importantly, how it functions. It will lead to greater autonomy from everything we interact with, including energy production and storage systems, city infrastructure, and transportation. Ultimately, it will drive better design and manufacturing processes while supporting the environment." 
We'll give designers access to accurate, real-time carbon calculations, making it easier to design for sustainable outcomes and environmental performance targets. Our customers will understand the materials required, as well as the energy use intensity of their projects during early-stage design– when they are best able to make changes that have a positive impact on sustainability. 
Autodesk is known for transforming the industries we serve. It was forty years ago that we launched AutoCAD, inventing the era of computer-aided design. Twenty years ago, we championed building information modeling (BIM), defining how our industries use the intelligent 3D model. And in the past decade, we began leading the way in cloud collaboration, bringing together teams across disciplines, industries, and regions. What about 30 or 40 years from now? As you can see, the sky is no longer the limit.