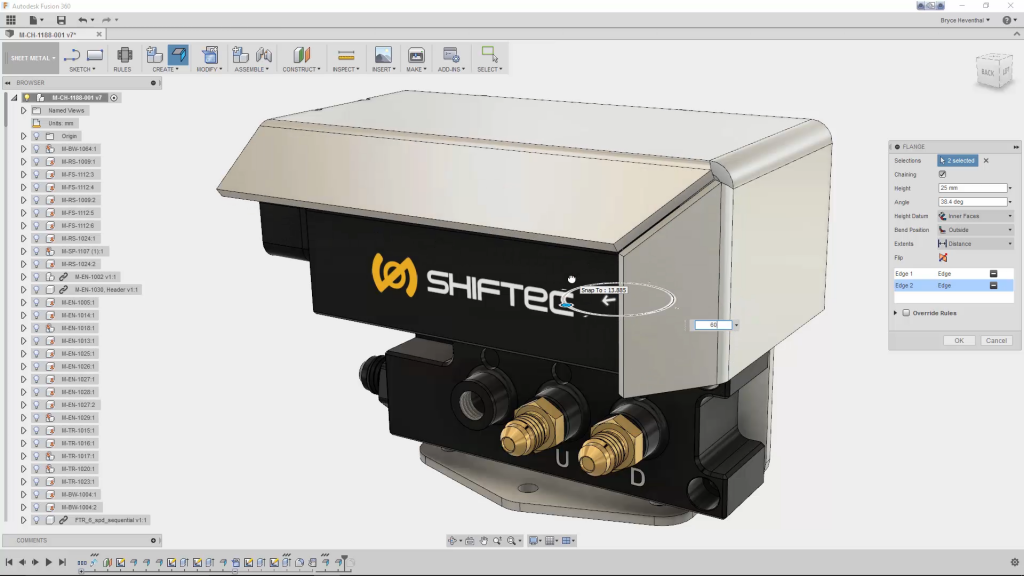 Fresh into the new year, the Fusion 360 team is already beginning to deliver on several of the new features announced in November at Autodesk University. Sheet metal and branching-and-merging are making their way into the product innovation platform. With these updates (and more), Fusion 360 continues to redefine what product development software is — it's CAD + CAM + CAE all in one and all connected to the cloud for easy collaboration.
If you fold it, it will CAM.
One of the most highly anticipated features is sure to please the Fusion 360 community. Sheet metal has been the number one most-requested item in Fusion 360 forums and the Ideastation. It's now in tech preview by invitation. Never before has it been possible to design sheet metal parts and take them directly into the CAM workspace to generate toolpaths for cutting flat patterns, all in one workflow. Get your waterjets, plasma and laser cutters ready because the sheet metal functionality will be putting them to the test.
Let's git together.
Software engineers know that collaboration is key. Hardware engineers? Not so much. Fusion 360's branch-and-merge functionality (now in tech preview) allows users to concurrently explore design ideas, then merge them back into the master branch without conflict. No more wonky workflows or duplicate files just to get your progress back into the main assembly. Design is a democracy and with branching and merging, you can be certain that the best design will always prevail.
The cloud's the limit.
This month, Fusion 360 in the browser steps a little closer to the limelight when it goes into tech preview mode (by invitation) for North American users. The team has been focused on making Fusion 360 as flexible as possible, regardless of whether you're on a Chromebook, an iPad, or a Linux desktop. Your CAD should follow you to any device, not vice versa.

The EAGLE has landed.
In November, we told you that ECAD is coming to Fusion 360. That is still in the works, and we'll share more as soon as we can. But we also have some related news that many Fusion 360 users may be keen to know about… Autodesk EAGLE has made its debut as a subscription offering. Since becoming part of Autodesk last summer, the development team has been improving and adding features at breakneck pace. For product teams that need PCB design now, there are free and paid subscription options to check out. More info is available here.
That's a lot of Fusion 360 goodness so far and it's still only February, but rest assured we have much more in store for the rest of 2017. It's only going to keep getting better.
*Roadmaps are plans, not promises. We're as excited as you to see new functionality make it into the products, but the development, release, and timing of any features or functionality remains at our sole discretion.
*These roadmaps should not be used to make purchasing decisions.