As the disciplines of design and manufacturing converge, it's more important than ever that companies understand and adapt to the future of making.
As the massive bi-annual International Manufacturing Technology Show (IMTS) gets underway here in Chicago this week, Autodesk is showcasing our portfolio of technologies that can help manufacturers embrace this change so they can make more, make their products better and do it with fewer resources.
For example, our generative design capability in Fusion 360 allows manufacturers to speed up their product development process by using AI to generate hundreds of valid product design options that meet their requirements for strength, weight, materials, manufacturing method and more. Generative design can accelerate the product development process, and it can result in better outcomes — like lighter, stronger, consolidated parts as seen with General Motors' use of the technology. Consolidating parts also means you can simplify supply chains and lower assembly costs.
We'll also be showing our latest advances for CNC machining and additive manufacturing in our PowerMill and Netfabb products. PowerMill 2019, released earlier this year, now provides a dedicated suite of additive strategies and simulation tools. These are specifically designed to solve the unique challenges of programming hybrid machines. PowerMill can generate safe and efficient toolpaths to drive directed energy deposition (DED) processes that utilize wire-fed or powder-blown hardware. These are not simply subtractive toolpaths in reverse. Instead, PowerMill offers highly specialized 3- and 5-axis programs that can be used to reliably build entire components from scratch. Of course, PowerMill also still offers manufacturers a vast library of subtractive manufacturing strategies so critical part features can be CNC machined where needed. Netfabb 2019 also offers a number of improvements, such as multi-scale cloud simulation and automatic support adjustments.
And to round things out, we're demonstrating our vision for the cloud-connected 'smart factory' with our Fusion Production software.Available in the browser or via smartphone app, Fusion Production provides a real-time visibility into production status for design, manufacturing, and operations teams regardless of where they are located. They can make decisions and act more quickly. The process of sending data from PowerMill directly to Fusion Production may be automated allowing the app's interface to start the machine. Simple automation like this can streamline the flow of data from design and manufacturing through to production and reduce the risk of manual error. It introduces a level of autonomy and reduced operator interaction with the equipment that wasn't previously possible.
But for all the advances our technology is bringing to manufacturers, we understand that software alone can't actually make things.
That's why Autodesk has been building deep relationships with the world's top machine-tool makers. By designing our software to work smoothly with the major CNC machines, we enable our manufacturing customers to do what they really care about – make things – and do so precisely and efficiently. What good is the most innovative generative design in the world if you can't actually manufacture it?
Among the CNC makers we count as close collaborators are BeAM Machines, C. R. Onsrud, Datron, DMG MORI, DMS, Doosan, Haas, Hardinge, Okuma and many others.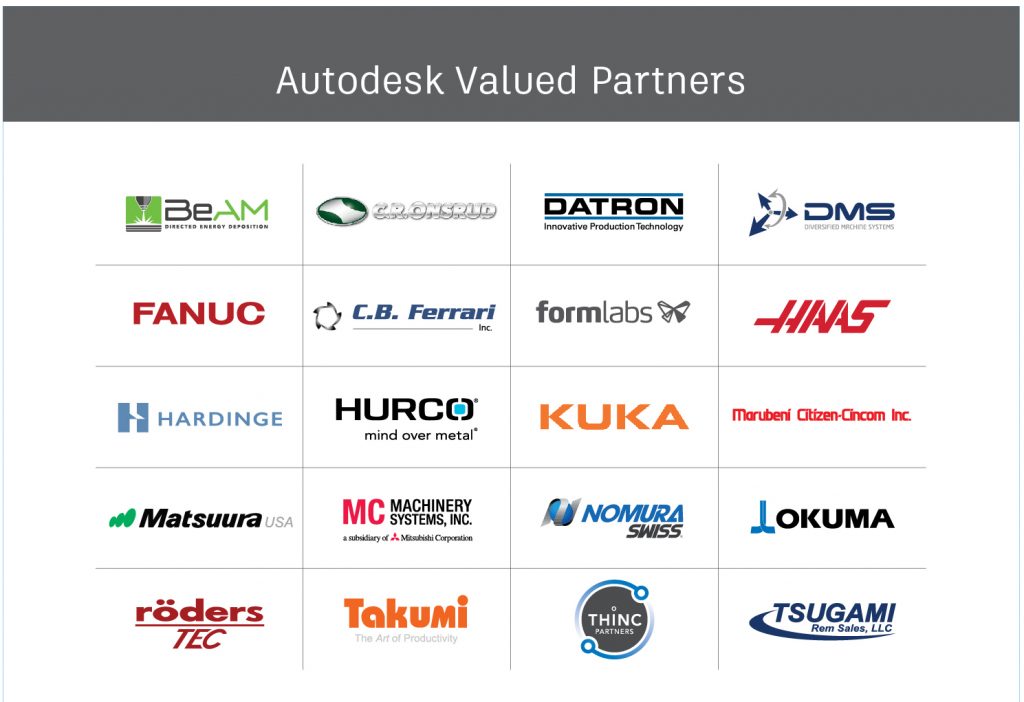 Wade Anderson, a product specialist sales and tech center manager at Okuma, characterized the relationship this way:
"Autodesk is not a typical CAD/CAM software company. It's truly a vertically integrated manufacturing software provider. Due to their capability to provide solutions from up-front design, programming, to quality & OEE monitoring, they can drive the part from inception all the way through creation. Together, Okuma and Autodesk can provide leading edge technologies that allow our respective customers to be more productive, profitable, and control their own future."
(For more on how Okuma and Autodesk are working together, please see the video here.)
IMTS attendees can visit the Autodesk booth (#133222) in the East Building at McCormick Place to learn more about our solutions and our machine tool collaborators, and see some of the incredible things manufacturers like Lightning Motorcycle, the Port of Rotterdam and Briggs Automotive Company have made using the potent combination of our software and CNC technology from many of our partners.