con·nect·or
kəˈnektər/
noun
A thing that links two or more things together.
The relationship Autodesk has with its architecture, engineering and construction industry customers is changing for the better. We spend a lot of time listening to small to medium-sized customers and hear how they often need help beyond the tech support available through Autodesk subscription. They are looking for help in the form of customized training, hands-on implementation, workflow optimization assistance, or general IT services, and more.
We recognize the importance of connecting our subscribers to a range of services in our ecosystem. A new and easier way to get that help is here. I'm excited to share the launch of the Autodesk Services Marketplace for our small and medium business customers. The Services Marketplace connects customers seeking to hire help from proven professional third-party service providers, offering choice, convenience and local help in one place.
How does it work? Say I'm an owner of a construction company. I have access to BIM 360 products, but several members of my team might require training to get comfortable using and applying them. With the Autodesk Services Marketplace, I now have a place to go to search for, select, and hire relevant, vetted providers who meet my specific criteria (industry, product, location, type of service). Once a provider is selected, the scheduling, payment, terms of the project, etc. stay directly between the person seeking the service and the provider.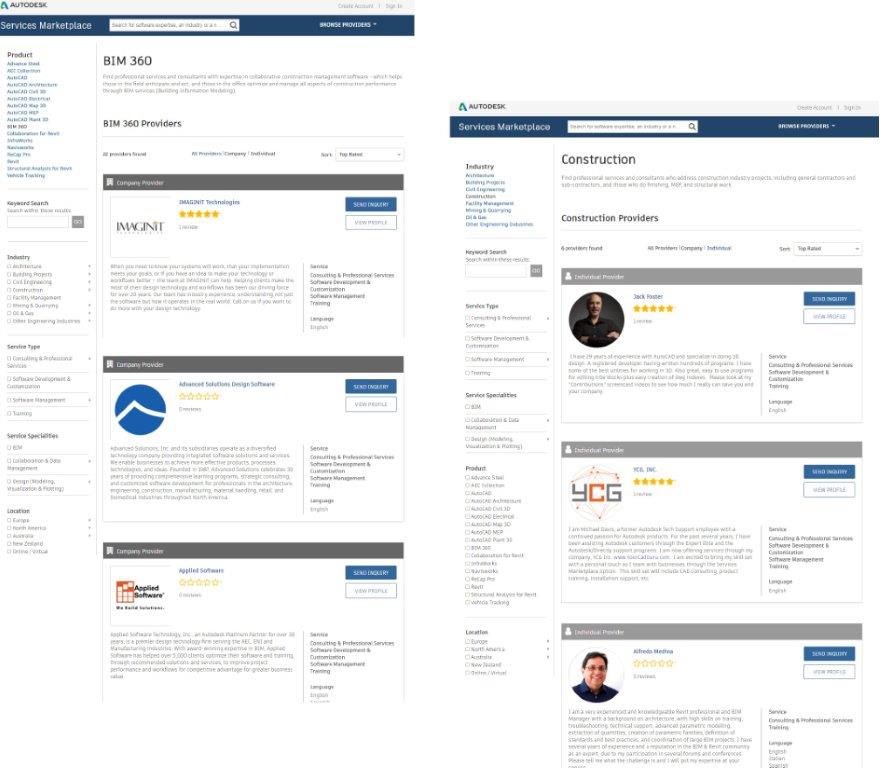 What is Autodesk's role? First, we are the connectors. We also evaluate and vet the providers to ensure our customers can connect with approved industry professionals available for hire. At the start, we are focusing on service providers in the Architecture, Engineering and Construction (AEC) industries and plan to expand into other industries over time.
The Services Marketplace will operate initially in English; however, services will be offered in other languages by providers from North America, Canada, parts of Europe, Australia, and New Zealand. The participants include construction-specialized platinum and gold partners and AEC-qualified experts. To visit the Autodesk Services Marketplace, go here http://servicesmarketplace.autodesk.com.