AIA 2016 highlights include the latest in generative and computational design, cloud collaboration, convergence of game and architecture visualization, and more.
The architect is the trend setter. The mold breaker.  A leader in combatting climate change – one home, one building, one design at a time. Nowhere will this be more apparent than at The American Institute of Architects (AIA) annual convention starting May 19 in Philadelphia.
For decades Autodesk has been a close collaborator with architectural design professionals – listening, responding, developing and innovating with you – and together, today, we embrace another evolution of our profession.  And at AIA this year we're going to celebrate how fast the profession is evolving as we help push the boundaries of BIM and shape the evolution of the architect in the 21st century.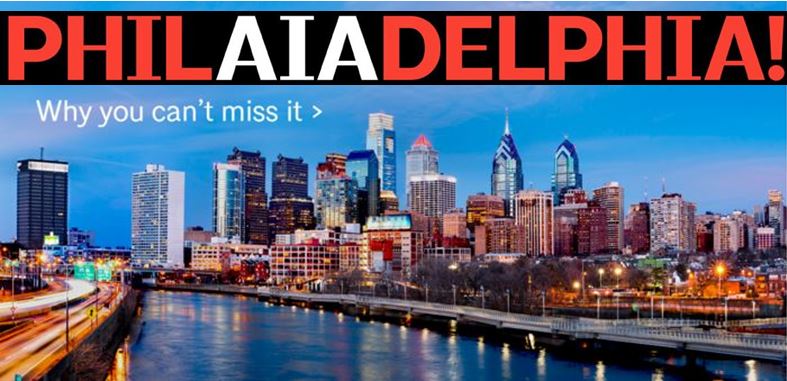 Long gone are the days of the architect who works at an isolated drafting table.  Increasingly, today's architects operate within a seamless workflow that fosters design with aesthetics, performance, constructability, coordination, time and cost savings, and operational efficiencies in mind from the start. They are collaborative, mobile, connected, and perform an increasingly larger, more blurred role.  Architects fluidly interact with engineers, construction consultants, MEP experts, owners and operations in a dynamic process that brings design dreams to reality.
Whether you are attending AIA this year, or not, we wanted to provide a two-part series offering a preview of what you will see, learn and experience at Autodesk's booth 3531 in Philadelphia.

BIM is in our DNA.  The potential of extended BIM is now being realized.
You may have first known us through AutoCAD, but today the core design tool for many architects is Revit.  It's not what Revit does on its own – although impressively serving as the backbone for two generations of architects – the real story is what Revit allows you to achieve with the new tools we've built on top of Revit.  Yes, Revit is now connected to the cloud.  Yes, Revit is faster.  Yes, Revit will help you to design and build with a purpose in mind.  More on that here.
However, Revit is only where we begin the story of extended BIM and Autodesk's value proposition to you.  Here's a sneak peek of what you'll experience at AIA.

Connect anywhere: A360 Team and A360 Collaboration for Revit
Your design team is increasingly distributed and on the go.  That's why we are helping the industry to design and build on the ground by hoisting your design team into the cloud.  Once dispersed design teams are now working in concert via the cloud with A360 Team and A360 Collaboration for Revit.
Take, for example, the Los Angeles International Airport Midfield Satellite Concourse project, which is part of a multi-billion dollar modernization program at LAX. Highly complex, the delivery of this new major satellite concourse takes time, teamwork and partnership. Two globally-leading design firms have formed a joint-venture – Corgan and Gensler (contracted to Turner/PCL) – to design the airport of the future.  Working as 'one team' in A360, all project information is centralized in the cloud with access given to all stakeholders who may need it—design version history, comments and markups, project schedules, and most importantly, the Revit models themselves. The design team can then design concurrently, regardless of location, using A360 Collaboration for Revit to simultaneously work on the same model in the cloud. These technologies are allowing the team to work on a live model without having to send data back and forth which could account for lost time and data.
The fact is, design-build and joint-venture projects are becoming more common in the AEC industry and include a project delivery style that requires a high level of collaboration across multiple disciplines, multiple cities, states and countries. Instead of purchasing expensive physical IT infrastructure, teams can now deploy solutions like A360 Team and A360 Collaboration for Revit and be up and running almost instantly.
Visit our booth at AIA to learn more about cloud collaboration.

Create anytime: FormIt 360 and FormIt 360 Pro
Where and when your next big design idea strikes is your business. Helping you sketch it out when that inspiration strikes, that's our business. Autodesk's latest design tools put in the hands of the mobile architect allows the designer to capture ideas in a digital sketchbook whenever, and wherever, creativity strikes.
But then, Autodesk got a little BIM crazy and takes the "what-once-was" of sketching to a whole new level with FormIt 360 and FormIt 360 Pro.
Autodesk's sketching tool, FormIt 360 and FormIt 360 Pro, takes 3D digital sketching and connects your conceptual design sketch to Building Information Modeling (BIM). FormIt 360 [available for free via web browser or an app for iPad, Android and Windows] is a lightweight, feature-rich productivity tool designed to capture ideas quickly and easily, while connecting you to the next big step – the BIM model.  A FormIt 360 Pro Subscription offers all the intuitive 3D sketching tools found in FormIt 360, but adds real-time collaboration, whole building energy analysis, solar analysis and access to the Autodesk materials library.  And with Revit 2017 FormIt 360 and FormIt 360 Pro are fully connected to Revit via a new plug-in, making it easier to move your creative sketches into our core design solution.

Autodesk's sketching tool, FormIt 360 Pro, takes 3D digital sketching and connects your conceptual design sketch to Building Information Modeling (BIM).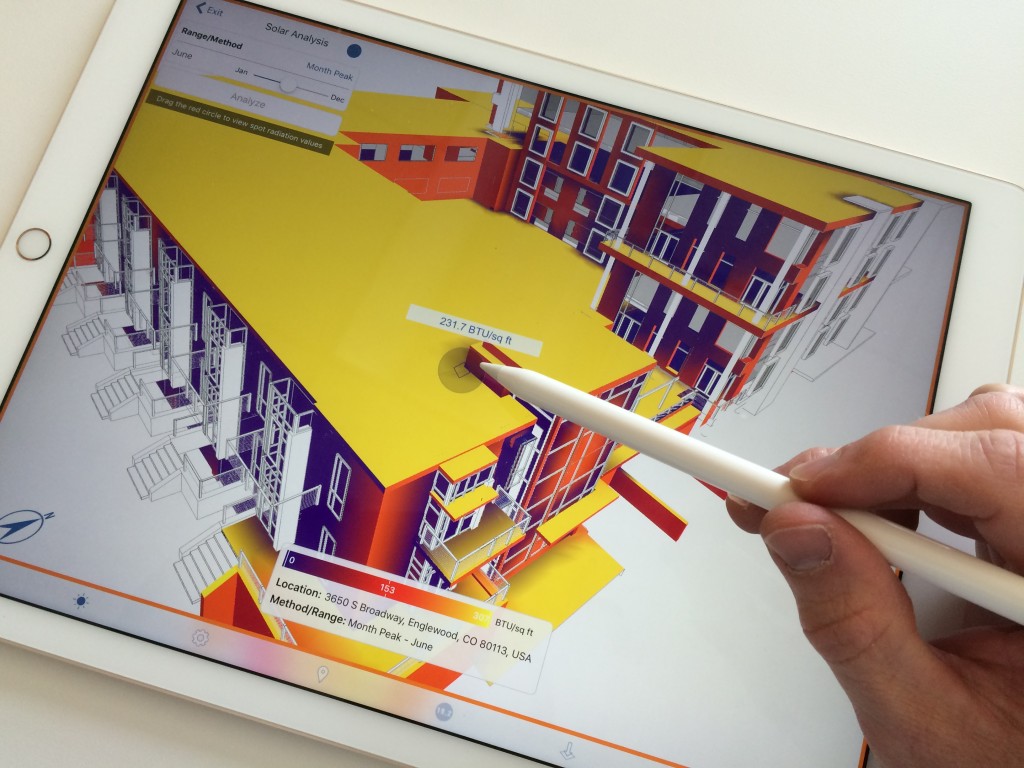 FormIt 360 Pro features early-stage energy and solar analysis so you can understand performance from day one.
As Roy Malcolm of DPR Construction notes, "I really enjoy FormIt's interoperability with Revit.  It's something I always missed with SketchUp."  Using FormIt 360 to express design ideas means conceptual design is no longer a dead-end workflow, as the software lets designers create BIM-intelligent sketches with a direct connection to Revit. Work done in FormIt 360 Pro becomes editable geometry in Revit, eliminating the need to redraw the conceptual design.  Got a great idea? Bam! It's BIM.  In Revit. Just like that.
"I've been working as an architect for 30 years, so I started drawing with pencil. With the introduction of CAD, we went from sketch to click, and some of us lost a kind of pleasure brought by the more traditional way of working," explains José Bassalo of the small Brazilian firm Meia Dois Nove. "The touchscreen technology in FormIt has given us back this lost pleasure of designing with a (kind of) pencil. FormIt allows us to continue 'sketching on paper' without losing the wonders of electronic modeling."
If you find yourself with a moment of inspiration at AIA, or want to share your FormIt 360 sketch with us, come visit our booth.

Dream, design without limit: Project Fractal and generative design
An exploration in possibility, architectural design is often constrained by the exigencies of tight deadlines and the difficulty in locating and applying the necessary expertise at just the right moment to a project. By combining algorithms implementing professional expertise with complex project requirements and conditions in a cloud computing environment, Autodesk foresees a new era of augmented design decisions.  In this new era we'll see analytical services and scalable computation expanding the ability of designers to rapidly evaluate many more possibilities than ever before, connecting every project to AEC industry expertise in service to a better built environment.
Enter Project Fractal, Autodesk's experimental generative design tool, currently in development.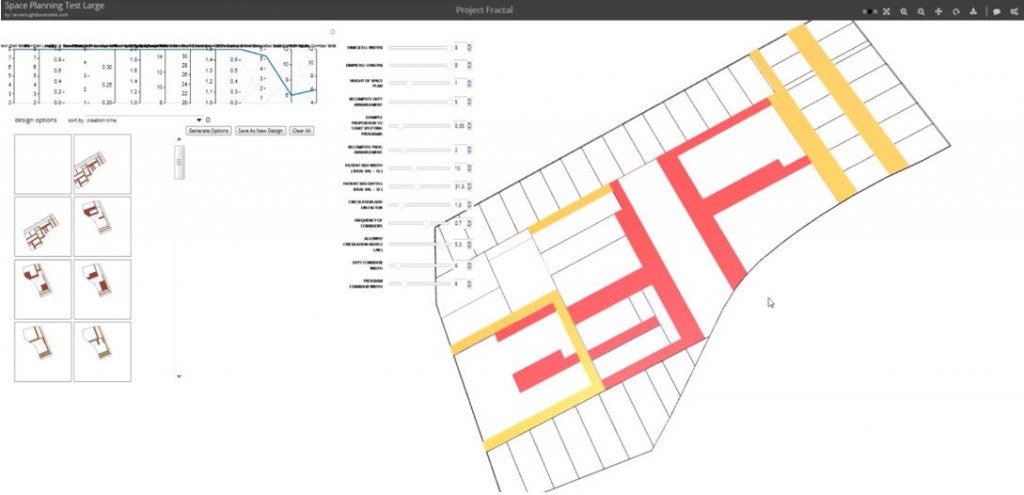 Example of Project Fractal used to evaluate hospital space planning options.
Perkins+Will Atlanta has been contracted to design a bed tower addition to an existing healthcare facility on a tightly constrained site, with client requirements to maximize the final patient bed count and connectivity to the existing hospital while complying with a new set of facility design guidelines and local building codes. The client also requires building envelope concessions to retain current views from an existing bed tower in the facility. The team is experimenting with Project Fractal to evaluate space planning options that account for site constraints and stringent client programming requirements.
"Solving today's complex healthcare design problems requires a multidisciplinary, research-and practice-informed approach. The unique collaboration among our planners and designers, Georgia Tech's researchers and students, and Autodesk's computer scientists and developers is helping us to completely rethink the way hospitals are planned and designed," noted John Haymaker, Director of Research, Perkins+Will. Check out the video below which shows the use of Project Fractal to generate options for a hospital floor plan.
We want to give you a chance to work with our Generative Design product development team as well. Please click here if you are interested in attending a special focus group at AIA on Thursday afternoon where we will give customers insight into Project Fractal and request your feedback for guidance for our product team.  If you want to get to know our generative design and Project Fractal team, visit thebuildinglab.info.  And be sure to check out the video below "Project Fractal Stadium" to see this advanced technology in action.
Autodesk Class/Theater Schedules, Demos and Experts
For more about all the activities Autodesk has in store for you at AIA 2016, including class and theater schedules, visit our event page. And come by booth 3531 to speak to a product expert and learn more about Autodesk's BIM technologies or get individual technical support.

What's next?
Stay tuned. In Part II, tomorrow, we will touch on computational design, mind-blowing experiments in visualization and how a small firm is combatting climate change – one building design at a time – with Revit and Insight 360.