Autodesk has been at the forefront of the design world for more than 30 years.  As we evolve beyond our deep design roots to making, the space and means to innovate are central.
So today Autodesk is excited to announce the opening of its Boston-based Autodesk Building, Innovation, Learning and Design (BUILD) Space, a unique industrial workshop and innovation studio focused on the future of making things in the built environment – the places we live in, the buildings we work in, and the infrastructure we rely so heavily upon.
Autodesk's Boston BUILD Space is home to six industrial robots.
"The way things are being designed, made and used is radically transforming, and Autodesk is fueling that change right here in Boston," said Carl Bass, president and CEO at Autodesk.  "The Autodesk BUILD Space is a powerful place to influence the future of making things for the built world around us, and the feedback loop our team gains from being in such close proximity to industry futurists is extraordinary."

Exploration and Innovation
The Autodesk BUILD Space hosts teams from academia, industry and practice doing work in fields including digital fabrication, design robotics and industrialized construction.  Autodesk will provide, at no cost, work space as well as access to advanced training and equipment, Autodesk personnel and executives, and other industry leaders.
A research team in the Autodesk BUILD Space explores human-robot interaction.
 So what's in it for Autodesk? We get a better understanding of how our construction customers and the broader business ecosystem will work in the future.
Case in point:  Pillar Technologies is at the forefront of the data revolution in the construction industry.  Through the use of on-site sensors, Pillar Technologies monitors for destructive environmental conditions such as fire outbreaks, high humidity exposure, and mold growth. These damages serve as major sources of revenue loss for general contractors and insurance companies.  Pillar Technologies needed a place to develop their technology and became one of the first companies to join the Autodesk BUILD Space startup incubator.
"The Autodesk BUILD space allowed our team at Pillar Technologies to create a next generation product in a few weeks with minimal cost, something that would take established companies months and significant budget to create," said Alex Schwarzkopf, co-founder, Pillar Technologies.  "This is so valuable because as a startup company, our scarcest resources are time and money."
Partial view of the second floor of the Autodesk BUILD Space.

Make anything, with anything
The 34,000 square-foot Autodesk BUILD Space provides the space and equipment to support work with nearly any material used in the building and infrastructure construction processes—steel, wood, stone, concrete, ceramics, glass, and composites like carbon fiber, which are becoming increasingly important in the industry.
The Autodesk BUILD Space has more than 60 pieces of large-format equipment including six industrial robots, and 11 dedicated workshops for wood, metal fabrication, composites, 3D printing, laser cutting, and large format CNC (Computer Numerical Control) router and waterjet.
The space also includes a 5-ton bridge crane for large fabrication projects and moving equipment and materials between floors. All of this equipment ultimately allows us to improve the integration and feedback between our software and the world's most advanced fabrication tools.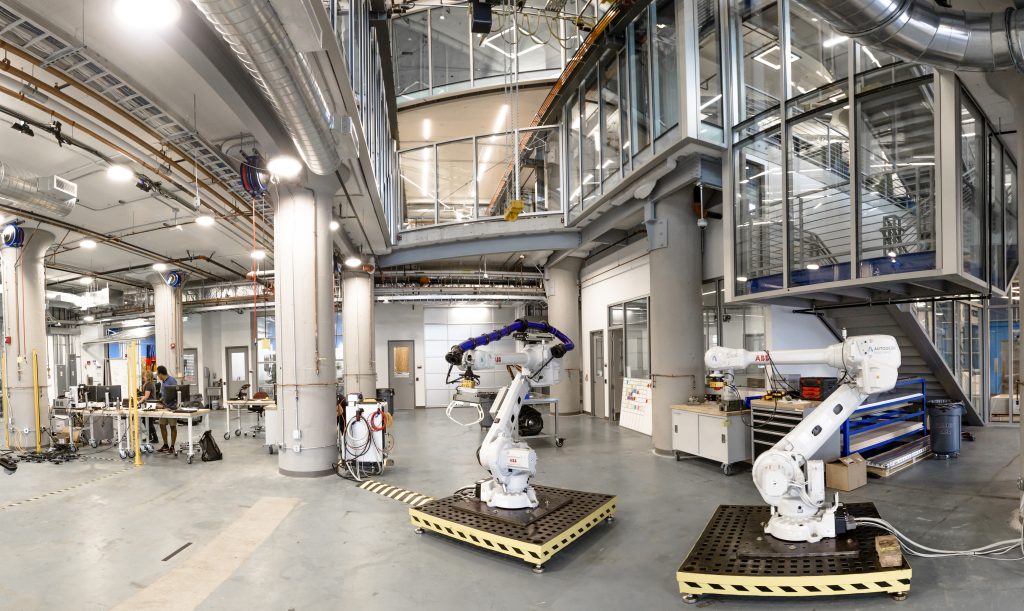 The Autodesk BUILD Space houses a 5-ton crane in a 27-foot crane way hoisting items between floors.

Boston: a community for the future of making things
When Autodesk moved its flagship east coast office to Boston's Seaport Innovation District, we wanted more than an address. We were seeking to be a part of and foster a community.
We chose to locate the Autodesk BUILD Space in the heart of one of the country's most entrepreneurial cities, with a vibrant startup community, the world's best universities and colleges, and a large talent pool.  The Innovation Design Building offered a facility robust enough to house our new Autodesk BUILD Space and we now call 23 Drydock Avenue home.
Boston Mayor Martin J. Walsh has backed this effort since the time the Autodesk BUILD Space was just a dream and we are fortunate that Mayor Walsh was able to join us for the grand opening celebration.
"Autodesk is recognized worldwide as a leader in the future of design and construction in the building and infrastructure industries, and I am thrilled to celebrate the opening of their new BUILD Space," said Mayor Martin J. Walsh.
"The Autodesk BUILD Space serves as a research and development lab where the most forward-thinking students and professionals in Boston and around the globe will discover the next breakthrough technologies in construction. I look forward to Autodesk's contribution to Boston's innovation economy and seeing all of the big ideas coming to life in this new space," Mayor Walsh added.
We can't thank Mayor Walsh enough for welcoming Autodesk to the city and fostering an environment of innovation.
If you've got a big idea for the future of design and construction in the building industry, or if you and your group would like a tour of the space, contact the Autodesk BUILD Space team to learn more.