At Accelerate 2016, Fusion product innovation platform gets first-ever end-to-end cloud PLM solution and more new capabilities on the way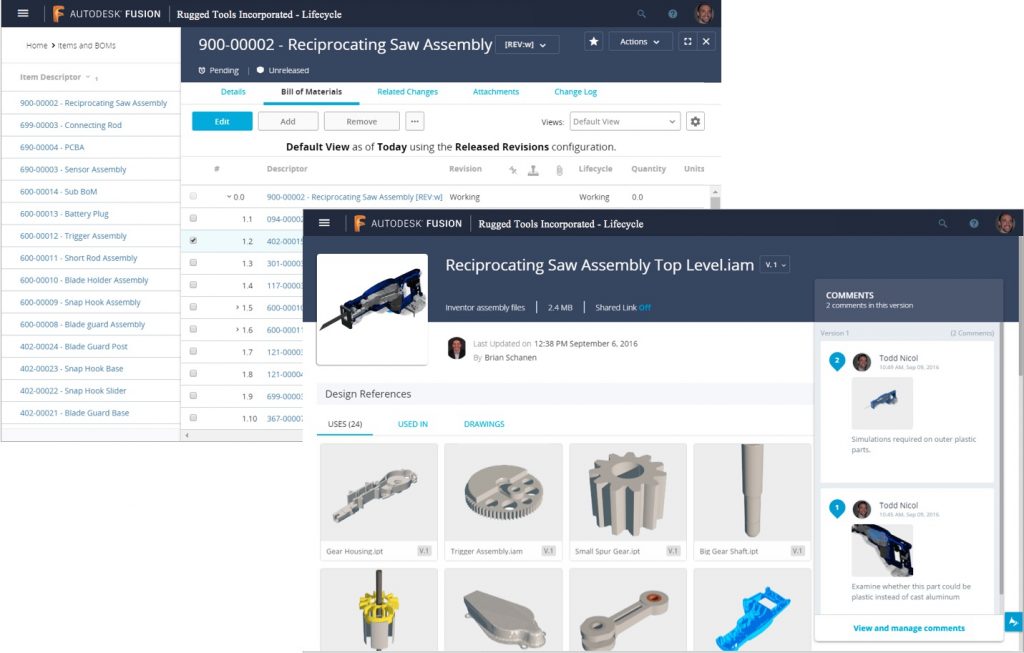 At this week's Accelerate 2016 conference in Boston, Autodesk is taking the wraps off a major addition to Fusion Lifecycle: cloud-based product data management (PDM).  With the addition of PDM, Fusion Lifecycle now covers the entire concept-to-market workflow, making it the first ever end-to-end PLM solution in the cloud.
Whether they are at a global 2000 manufacturer or a fledgling start-up, product developers want a consistent set of software tools to meet all their needs. They don't want to bounce from one app to another, one platform to another, migrating data along the way.
Fusion has provided an answer to that call, offering a unifed product innovation platform that includes everything needed to go from concept to customer. At the heart of the software platform is Fusion 360, which combines CAD, CAM and CAE in the cloud. Earlier in 2016, we bolstered the Fusion platform with Fusion Lifecycle for PLM and Fusion Connect for IoT data management.
The new cloud-based product data management (Cloud PDM) functionality is built directly into Fusion Lifecycle and is available immediately. Cloud PDM enables engineers to collaborate on designs and manage their work-in-process CAD data and documents. Teams can effectively collaborate on designs, track versions and releases, and connect to manufacturing workflows for more effective sharing of design data across the enterprise.
Fusion Lifecycle makes the management of design data as easy and as intuitive as saving your files to folders – but with revision control and versioning happening automatically. The new PDM features improve collaboration between engineering and the rest of the enterprise, enabling real-time design reviews, viewing and markup of 3D files, and connecting key processes for managing Bills of Materials (BOM) and Engineering Change Orders (ECO). All of the new PDM functionality is built directly into Fusion Lifecycle and included at no extra cost to our subscribers.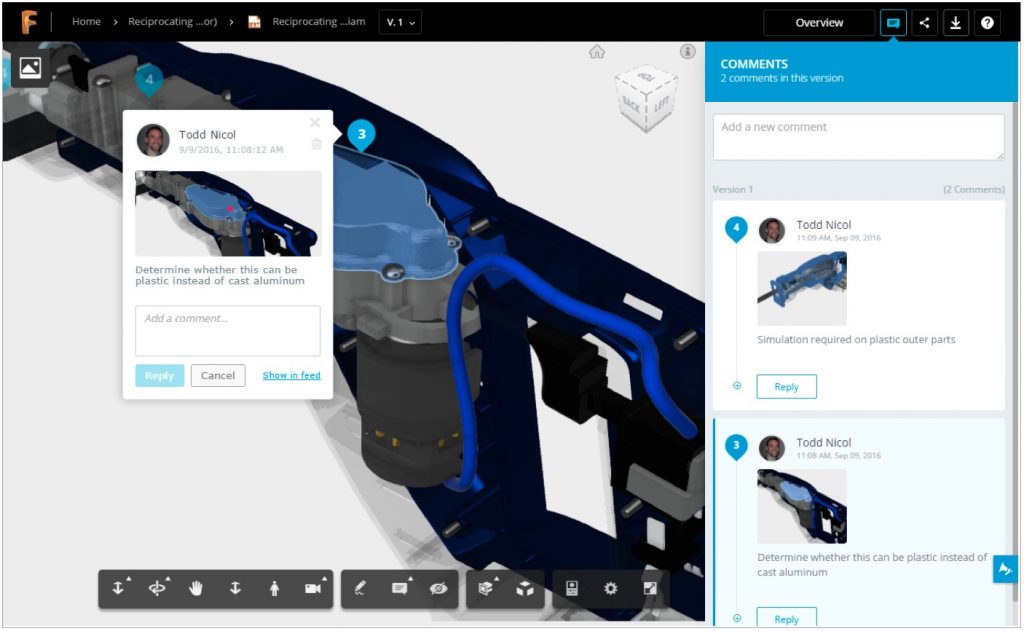 "We have been avid users of Fusion Lifecycle for over a year, and it has greatly improved our product development process. Albeit, this is the piece we've really been waiting to utilize. The full PLM solution, in the cloud, will dramatically improve our efficiency," said Brian Hunter, Quality Control Manager of NovaCentrix.
Other additions coming to the Fusion portfolio to better equip manufacturers to meet the demands of an increasingly competitive marketplace include:
Fusion Connect – Fusion Connect will provide Dynamic Predictive Analytics, powered by technology from Nutonian. While industrial IoT will comprise 16% of global GDP by 2020, making sense of the unprecedented volume of data is a challenge that typically requires data scientists to derive actionable business insights.  Coming as a future option for Fusion Connect customers, Nutonian's Eureqa, an Artificial Intelligence (A.I.) modeling engine, automatically extracts meaning from large data sets and delivers prescriptive solutions. This enables forecasting of product equipment failure with exceptional accuracy. This foresight can drive an evolution of operations, new services and ultimately create a competitive advantage.
"As we continually enhance our cloud capabilities, the logical next step was broadening and deepening our IoT predictive and prescriptive solutions," said Bryan Kester, director of IoT, Autodesk. "We evaluated the A.I. and machine learning ecosystem and found Nutonian has numerous, vast advantages that enable us to deliver a one-of-a-kind IoT analytics service."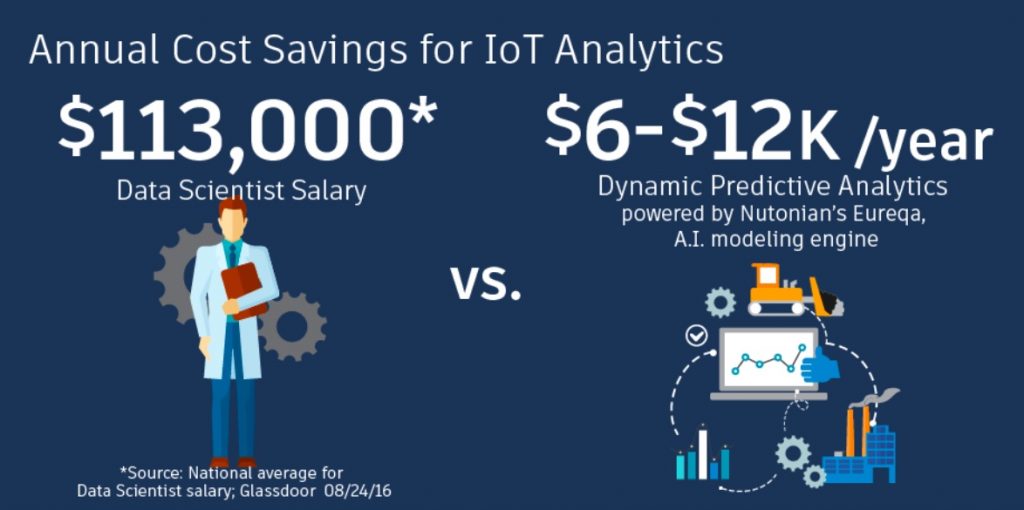 Fusion Configure – Coming soon to the platform, Fusion Configure will add enterprise CPQ (configure, price, quote) functionality for manufacturers who design and build configurable, multi-option, and customizable products. Manufacturers are seeing greater demand for more personalized and tailored products, and they need the ability to design and manufacture with much greater customization in order to grow and remain competitive in their industries. Fusion Configure will enable companies to configure, price and quote the most complex products in minutes by automating the way they sell and process orders for customizable products.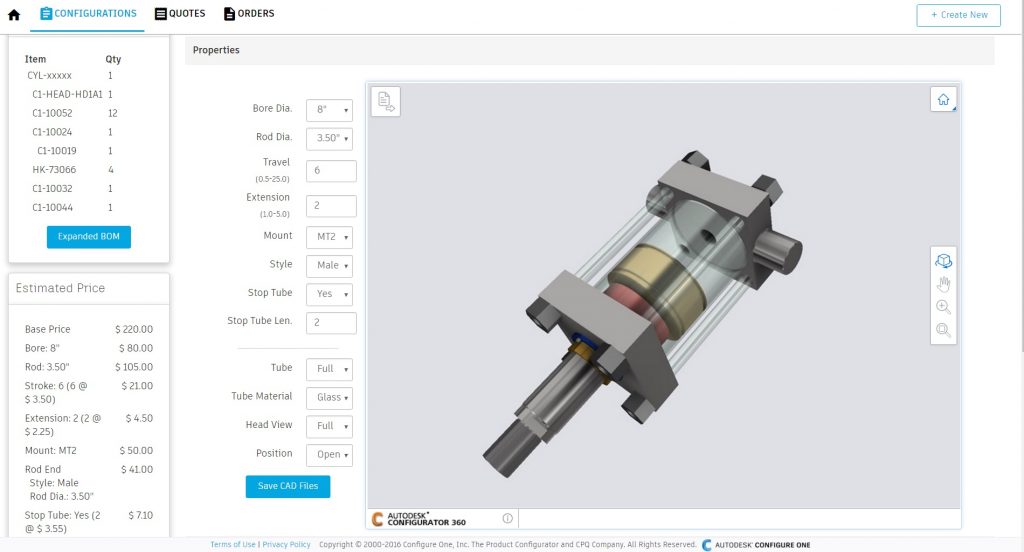 Because the Fusion product innovation platform is cloud-based, there is no hardware to install, and no expensive upgrades to implement. Manufacturers get a low total cost of ownership and mobility – engineers can access their design data from anywhere, so progress doesn't stop when someone is out of the office.
"Traditionally, product development has required multiple disconnected software tools, often resulting in a cumbersome, slow and expensive process.  We are determined to fix this and improve the way products are designed, made and used," said Lisa Campbell, vice president, manufacturing industry strategy and marketing, Autodesk. "Today's additions to the Fusion product innovation platform will take us – and our customers – much further along that journey to a new and better future of making things."