By Clinton Perry and Sanjay Thakore
It's that time of the year: the 2018 versions of PowerMill and FeatureCAM are officially available! We will share many details, videos and updates in the coming days and weeks on our product center but we also wanted to give all of you an overview of the major new features here. The focus this year was on user experience and we included many new enhancements that we think you will be excited about.
The major new update for both products is a ribbon-style user interface, which is something the team has been working on since Autodesk acquired Delcam in 2014. You will still be able to easily find and access important tools, but the 2018 versions categorize functionality into similar groupings, with the most commonly used features front and center. The new interface is designed to provide an improved user experience and help shorten the learning curve.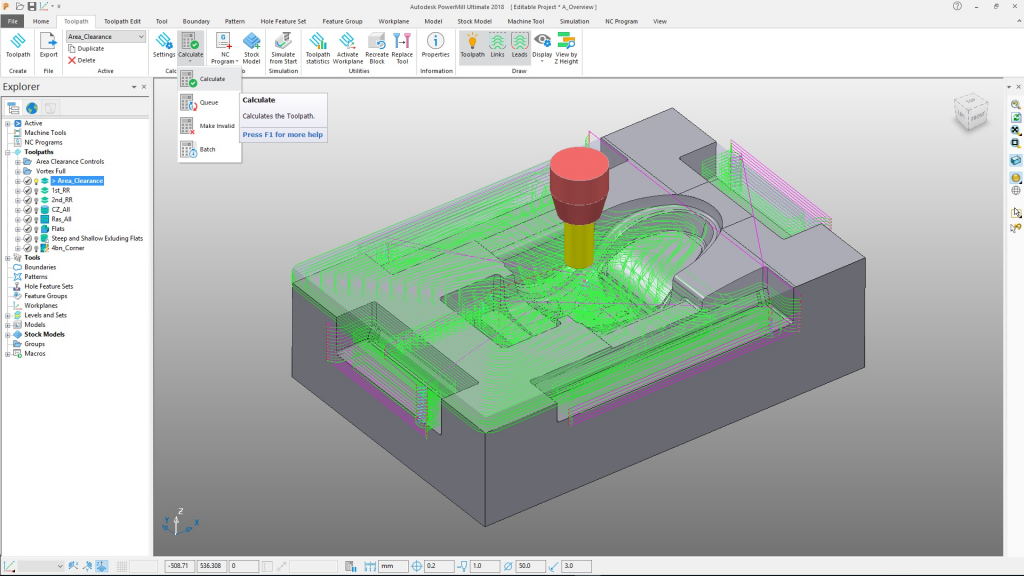 New Ribbon-style Interface
Other customer-driven updates to PowerMill 2018 include:
Dynamic machine control: the ability for users to dynamically change the 5-axis motion of toolpaths using a virtual machine twin. This new update allows users to make localized edits to regions of toolpaths for greatly improved control of CNC machine motion whilst also helping to minimize programming time.
Improved stock simulation: PowerMill now provides a higher quality simulation image that can be zoomed, panned and rotated, allowing users to review the quality of their programs and, ultimately, provide greater confidence that the stock is being machined as specified.
Enhanced turning abilities, including collision checking, editable toolpaths and a greater choice of leads and links, which in turn provide users with increased flexibility and control.
New 2D strategies simplify the programming of prismatic pockets and bosses. Improvements help reduce the time taken to program 2D parts whilst also helping to minimize the need to use multiple CAM programs.
The updates to FeatureCAM 2018 are also significant, including the updated ribbon-style user interface. This change enhances the look and feel of the software. With an icon, accompanying text and dynamic help, users will have easy access to the tools they use most often as well as more visibility and insight into different functionality they may not have known was available within the software. Finally, the layout of the ribbon is customizable so users will have the option of creating their preferred working environment.
Beyond the user interface, the updates to functionality are also pretty cool:
Automatic toolpath angle: users can now quickly fine-tune the angle for their parallel finishing toolpaths, based on the region that is being machined and create more efficient toolpaths from multiple surfaces.
Automatic 3+2 positioning: New automatic 3+2 positioning allows users to use the axis limits of the machine to quickly determine whether the axis needs to be in a standard or an alternate position, which helps validate that the program is within the machine's working envelope.
PartMaker, available as part of FeatureCAM, also received a pretty significant makeover. PartMaker is production-oriented CAM software for complex, high-precision part manufacturing with Swiss-type lathes. The 2018 version now includes:
Laser machining: there has been a lot of interest around Swiss machines in the industry and they are becoming more and more popular. This new update will allow users to program and simulate Swiss machines with integrated laser cutting capabilities as well as control the pulse width, frequency, assist gas and power levels for intricate cutting results.
Keyway broaching: a popular technique for high production runs, keyway broaching allows the user to set the index position of the stock prior to machining and choose the number of cuts they want to make.
Workflow improvements: to further improve user experience, we have also created a new 3D view of models within setup sheets to enhance visualization. We have also updated toolpath verification with the ability to pause, rewind and display the tool shank and enabled undocking of windows for use on a second monitor.
As you can tell, we think we have put together some pretty stellar offerings for 2018 and we're excited to see what our talented users will create using the new updates this year. A sincere thank you from our whole team – be sure to check out the PowerMill and FeatureCAM product pages for more detailed information on the 2018 enhancements!