For years, Autodesk has collaborated with globally-recognized companies like Airbus, Volkswagen Group and others to explore the possibilities of generative design, helping them to leverage this technology to tackle complex design dilemmas and embrace a more sustainable approach to manufacturing. But what if the speed and scale of this technology could be leveraged similarly outside of the manufacturing space – by architects, engineers and contractors alike? 
Throughout the project delivery lifecycle of a building, architects, engineers and contractors experience and solve for a myriad of universal challenges. Each challenge – ranging from seemingly simple to complex – has the potential to trigger tedious, time-consuming and cost-intensive rounds of revisions. At Autodesk, we dedicate a significant amount of time developing and delivering solutions to those challenges, and we do it in collaboration with you, our customers.  
Introducing: Generative Design in Autodesk Revit 2021.
Building on our years of generative design experience in manufacturing, Autodesk is excited to announce the expansion of Autodesk Revit to now include the capabilities and benefits of generative design technology for the architecture, engineering and construction industries. This new feature is available with the release of Revit 2021 within the Architecture, Engineering and Construction Collection (AEC Collection), allowing users to explore, optimize and evaluate data-driven design alternatives based on project goals, constraints and inputs. 
With the introduction of Generative Design in Revit, industry professionals can harness its algorithmic problem-solving technology to explore design alternatives, identify improved outcomes and make data-informed decisions faster than ever before. 
By engaging with generative design tools directly in Revit, designers can generate optimal solutions for a goal, problem or constraint within a matter of minutes. These design options are presented in a visual format for easy exploration, as well as responsive result graphs with sorting, selection and filtering capabilities.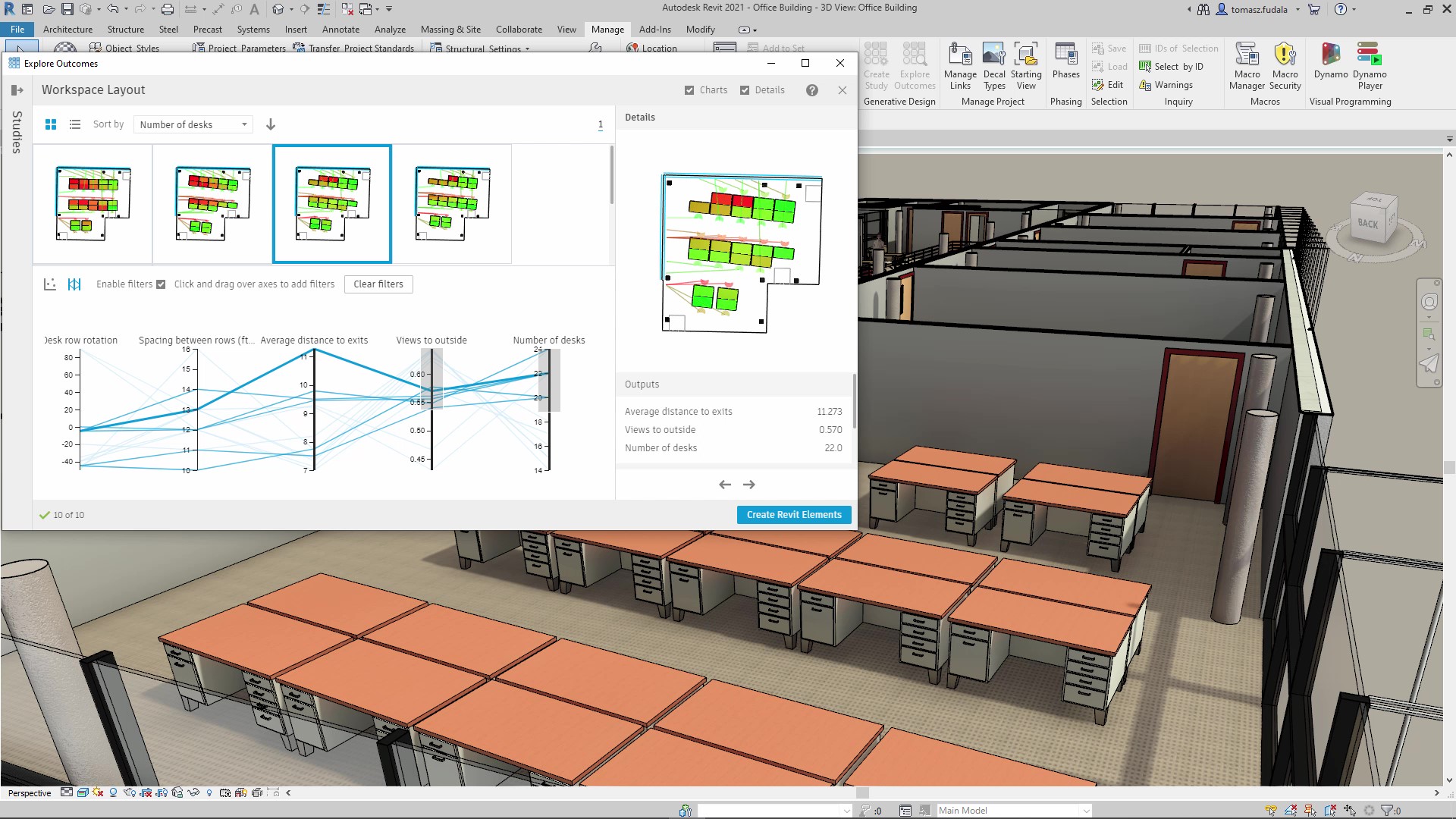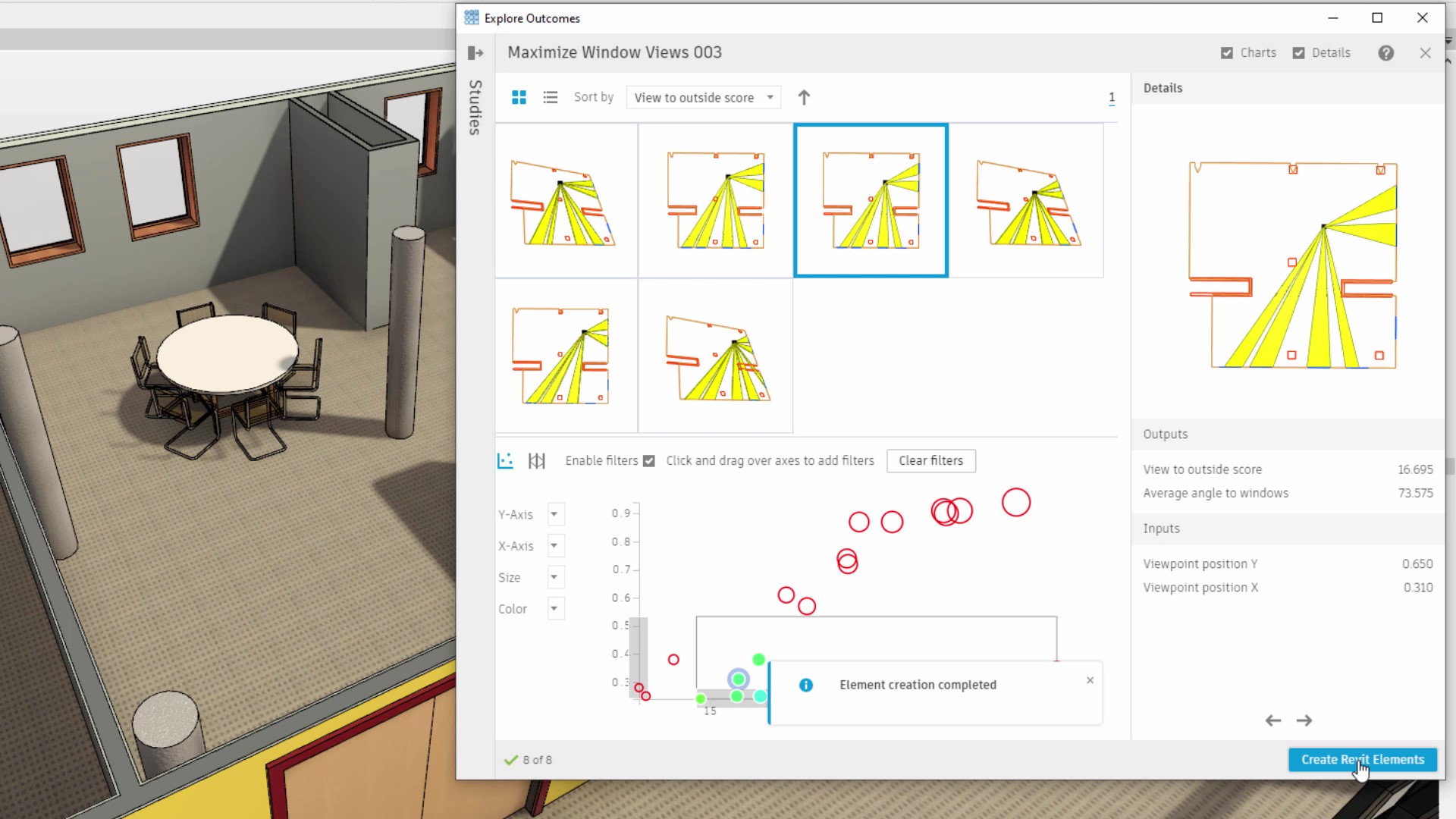 Nicolas Mangon, vice president of Autodesk AEC Business Strategy puts it this way: "With the launch of Generative Design in Revit, we're accelerating the design process and enabling AEC Collection users to explore design solutions for any given project, faster than ever before. Leveraging generative design capabilities, our customers may now be more confident in the design decisions they are making, optimize workflows and have more productive conversations with project stakeholders." 
Customer Feedback
The development of Generative Design in Revit didn't happen in a vacuum. In fact, none of our technology enters to market without customer input and testing. So, when our customers are pleased, we know a product is in the right place to meet industry needs. 

Based in the Netherlands since 1926, Stamhuis is a true expert in retail shop design and renovation and is one of our earliest beta users, providing feedback throughout the development of Generative Design in Revit.  From supermarkets to restaurants and convenience stores, the team approaches each project as a highly collaborative partnership with its clients, creating customized solutions tailored to specific retail needs. Considering the universal challenges of design, construction and installation, Stamhuis explored the benefits of generative design technology as it relates to critical time and cost-savings. 
"Generative Design in Revit gives our team the power to generate possible options and narrow on the potential solutions within the design phase – an important period for both time and cost savings during any project we work on." said Ron Rijkers, team manager for BIM and Innovation at Stamhuis. "We're now able to create better insights and make better decisions early on in our client collaborations, and we're excited to uncover additional applications for the technology moving forward." 
With its headquarters also in the Netherlands, Royal HaskoningDHV is an engineering and project management consultancy leading the way in sustainable development and innovation across a variety of industries, including aviation, energy, infrastructure, transport and others. The Royal HaskoningDHV team also foresees significant value for generative design technology within a maritime context: 
"In the planning of shipyards, our team needs to explore options with our clients, understand their needs and confidently demonstrate that our proposed solutions meet them," explained Dan Peel, principal engineer at Royal HaskoningDHV. "We expect generative design to be invaluable in achieving this, allowing us to explore a large design space and understand the impact that varied success criteria have on optimal solutions. With this new feature in Revit, we'll be able to visualize and convey each solution to our clients in a readily understandable and approachable way." 
Office for Metropolitan Architecture (OMA) is an international practice operating within the traditional boundaries of architecture and urbanism. The firm's incredible designs can be found all over the world, and their global team provided critical feedback in the development of Generative Design in Revit. The technology has proved especially helpful in designing the concept for the largest soccer stadium in the Netherlands – Feyenoord Stadium, right on the Rotterdam waterfront. 
"We're using generative design to gain insight during our exploration of Rotterdam's new Feyenoord Stadium," said Alex Mortiboys, head of BIM at architecture firm OMA. "The result is a performance-based approach, allowing our team to test design logic and optimize manufacturability at the same time." 
Here are some of the key customizable use cases for Generative Design in Revit:
Three Box Massing 

creates simple massing models and calculates areas.

 

 

Maximize Window Views

 scores the quality of views to the outside from any position in a room.

 

Workspace Layout 

optimizes the placement of desks in a room based on user-selected criteria.

 

Customizable Studies 

are available when using Dynamo. New studies may be defined to serve the needs of varying design firms and their practices.

 
Let's get you started on the path toward bold new designs. Learn more about Autodesk Revit.