A version of this letter appears in Autodesk's FY22 Impact Report.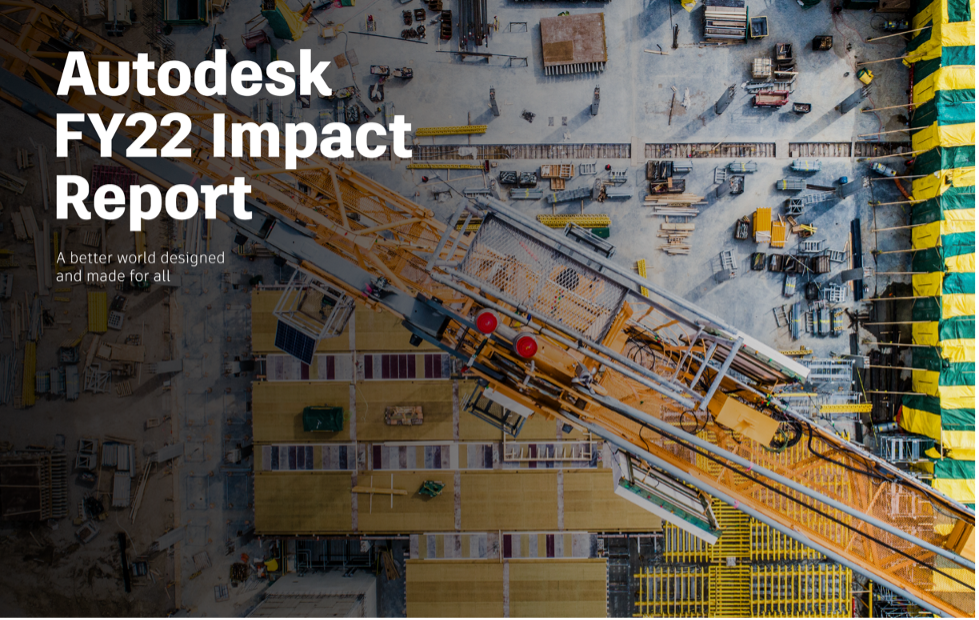 Autodesk's journey began 40-years ago with a group of young technologists working to democratize CAD tools– they believed that a proliferation of design technology would be good for industries, and for society overall.
The company has come a long way, while maintaining the same core values. Technology, deployed appropriately, can help to solve some of our most challenging global issues: to measure, manage, and reduce greenhouse gas emissions, to improve global health and resilience, and to provide skills and opportunities for those seeking to advance their careers.
This work is more important than ever. As we look to the long term, climate change and labor market inequities demand increasingly bold and urgent action. And in the near term, global conflict, high inflation, prolonged supply chain disruptions, and increasingly distributed workforces have immediate economic and social implications. We acknowledge the magnitude and importance of this moment. I believe the volatility around the globe requires that we get back to basics— leaning into our communities, recognizing the importance of resilience, and driving toward positive societal outcomes.
Last year we unveiled our impact strategy. While we have made substantial progress, much work remains to be done. We have multiple levers to drive progress across important environmental, social, and governance issues: how we manage our own business operations, the solutions we provide to our customers, and our collective efforts to accelerate industry transformation.
This report outlines our approach and performance across these interconnected areas. Each builds on the former. Measuring and managing our own impacts better equips us to help our customers do the same. And deploying outcomes-based solutions for our customers supports broader industry transition to the sustainable, resilient, and inclusive future we collectively aim to achieve.
Improving our operations
We recognize the importance of improving our operations to demonstrate our commitment to sustainability and help enable a low-carbon, inclusive future. Our Carbon Fund underpins Autodesk's work to deliver on our net-zero and renewable energy commitments, and we recently doubled our internal price on carbon to align with market pricing. We also continue to drive progress toward our three-year diversity and belonging strategic goals. To support our efforts, we have strengthened our governance and accountability across the expanding range of ESG issues.
Partnering with customers
As we deepen our partnership with customers, we are empowering them to create solutions, connect their data, and accelerate the outcomes that matter to them. This helps them address the unprecedented demand for net-zero buildings, resilient infrastructure, and waste reduction for consumer packaged goods—just to name a few. Last year, we further enhanced our platform capabilities to help our customers scale their positive impact. We released microclimate analysis tools, digital twin solutions, and new features to improve efficiency in building design and construction; and we introduced new factory efficiency solutions for manufacturing. We've also expanded our portfolio of water management solutions. These capabilities help our customers mitigate risk and respond to unprecedented demand for sustainable solutions.
Advancing industries
By investing in technologies that enable dramatic changes in our customers' processes, we can help transform the industries we serve. Through the convergence of design and make, the integration of adjacent industry verticals, and the expansion of our partner and developer ecosystem, we enable insights that empower customers to reduce carbon emissions, water use, and waste. Through our certification programs and policy efforts, we strive to support more inclusive opportunities in the industries we serve, and we advocate for broader impact through the global institutions with which we engage.
I'm grateful to our customers, employees, and investors, for their support of this work, and I welcome continued collaboration on this journey. By staying true to our values, investing in our broader community, and focusing relentlessly on the outcomes we seek, I believe we will fulfill our vision of a better world, designed and made for all.
Read Autodesk's FY22 Impact Report to learn more.