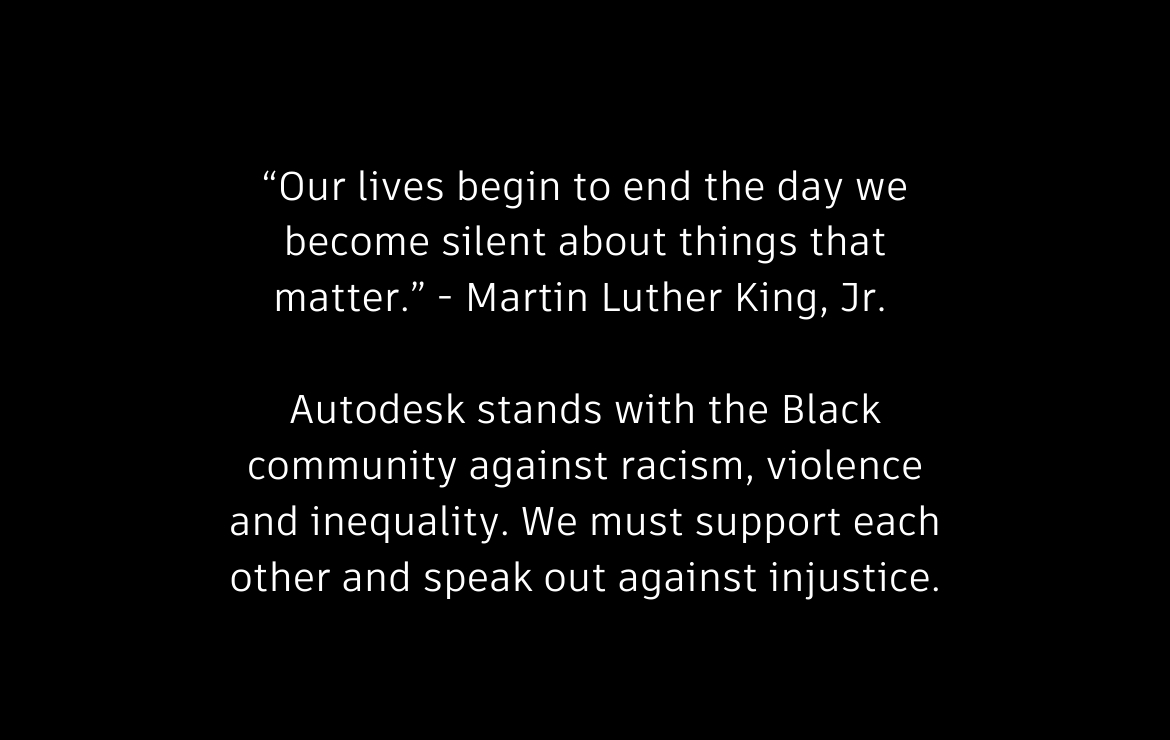 We wanted to share more details on the actions Autodesk is taking in the wake of what has been a horrific and turbulent few weeks across the United States – following the killings of George Floyd, Ahmaud Arbery, Breonna Taylor, and the unrest that has followed. To support organizations involved in fighting for racial justice, ending police brutality, and advancing equality, the Autodesk Foundation is providing an initial $75,000 USD to frontline organizations committed to these goals.  These organizations are:
Equal Justice Initiative– which works to end mass incarceration and excessive punishment in the United States, challenges racial and economic injustice, and protects basic human rights for the most vulnerable people in American society.
Black Futures Lab– which works with Black people to transform communities, build Black political power, and change the way that power operates—locally, statewide and nationally.
Campaign Zero– which works to analyze policing practices across the country, research effective solutions to end police violence, provide technical assistance to organizers leading police accountability campaigns and develop model legislation and advocacy to end police violence nationwide.
In the coming days, we expect to make additional grants to organizations supporting the people and vulnerable businesses in the local communities most impacted by these recent events.
And we're encouraging employees to dedicate their time and make donations to these organizations – or other causes they care about – which can be matched through Autodesk's donation match program at up to $3,000 per employee, per year.
We must also embrace Autodesk's Cultural Code – namely the value of humility – and acknowledge that there is always more help we can give, as well as more work to be done to ensure our company reflects the world we live in through efforts to build a more diverse workforce, create more opportunities for growth and advancement, and foster a deeper sense of belonging.
This is just a start. But expect to hear more from us about the work – and not just the words – we're taking on to support the Black community and champion these important causes.